13 September 2016
World-leading petrochemical and specialty chemical companies Kuraray, Sumitomo Corporation, and PTT Global Chemical reach joint development agreement in Thailand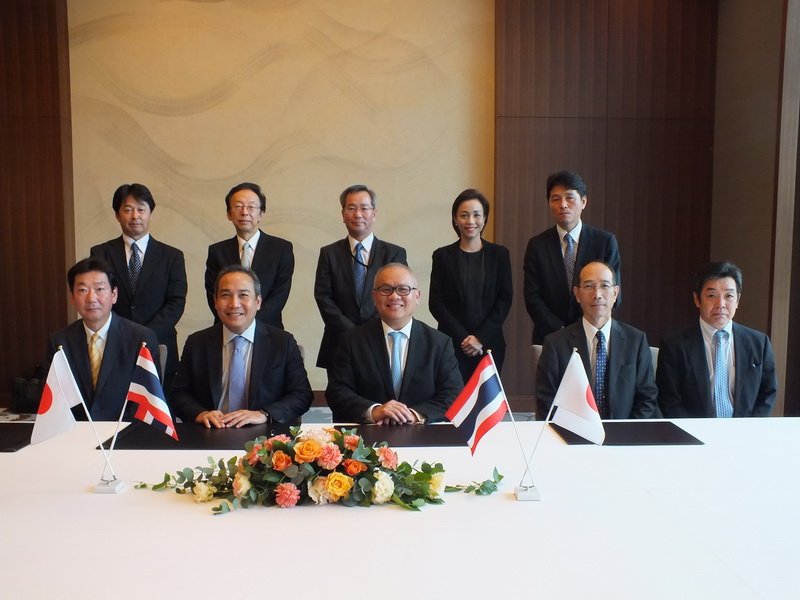 Mr. Supattanapong Punmeechaow; President & CEO of PTT Global Chemical PLC's (PTTGC) had signed a Heads of Agreement (HOA) with Mr. Kenichi Abe, Director and Senior Executive Officer President of Isoprene Company, Kuraray Co., Ltd. , a world leading Japanese performance chemical company and Mr. Yoshiyuki Sakamoto, Corporate Officer, General Manager Basic Chemical & Electronics Div., Sumitomo Corporation, a Japanese trading company with worldwide network. Mr. Patiparn Sukorndhaman, Chief Operating Officer – Downstream Petrochemical Business of PTTGC was also witnessed on September 13, 2016 at Palace Hotel Tokyo, Japan.
The objective of HOA signing ceremony is to do detail feasibility study and perform Front-End Engineering Design (FEED) for the development of manufacturing and sales of Super Engineering Plastic: High-Heat Resistant Polyamide-9T (PA9T) and Hydrogenated Styrenic Block Copolymer (HSBC) products in Thailand. The investment decision will be made at the end of 2017. The agreement will lead to a new joint venture company that is expected to commence operation in late 2020.
The project will be located in Hemaraj Eastern Industrial Estate in Thailand's Rayong province will produce 13,000 tons/year of High-Heat Resistant Polyamide-9T (PA9T) and 16,000 tons/year of Hydrogenated Styrenic Block Copolymers (HSBC). Main feedstock for this project will be provided by PTTGC. This project fits well with PTTGC's direction and growth strategy to expand business into performance chemicals which will lengthen PTTGC's existing value chain into more value added downstream products.