General Question
How does PTTGC formed?

PTTGC was formed through an amalgamation of PTT Chemical Public Company Limited "PTTCH" and PTT Aromatics and Refining Public Company Limited "PTTAR" on October 19, 2011. On October 21, 2014, PTTGC was listed on the Stock Exchange of Thailand and began trading publicly in the Stock Exchange of Thailand under the abbreviated name PTTGC in the category of petrochemical and chemical products.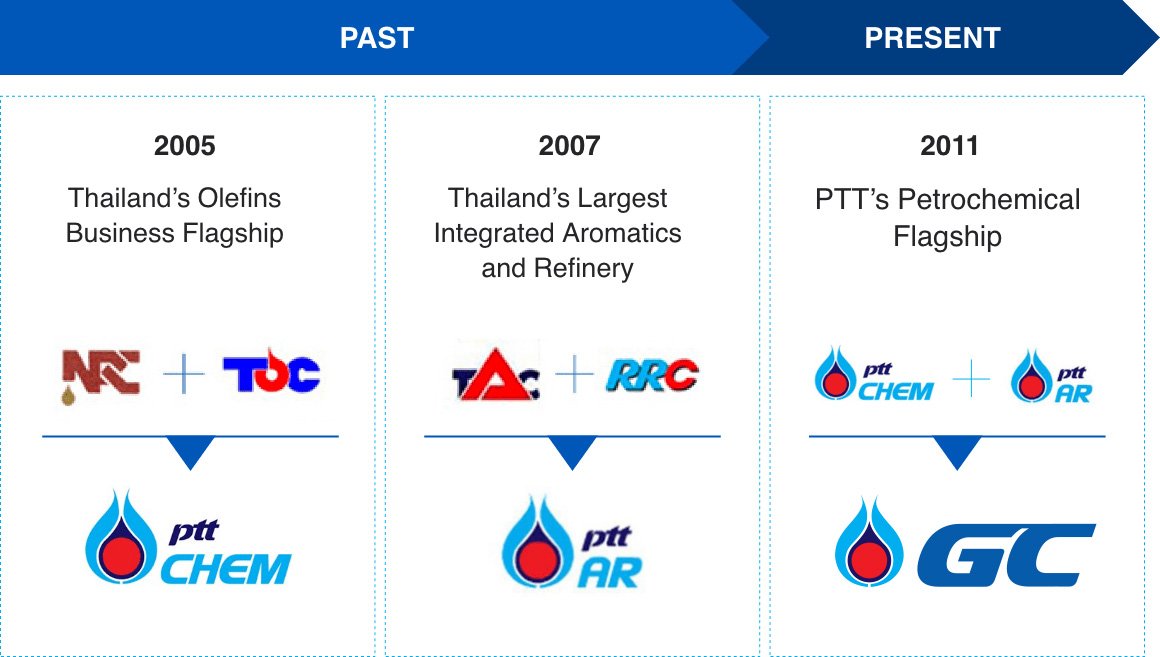 Relationship with PTT

PTTGC is a member of PTT Group whereby PTT is a major shareholder, owning 45.18 %share. In term of business, PTT is our major feedstock supplier for both crude and gas feedstock. This has given PTTGC the stability of feedstock at attractive price. Also, PTT is our major offtaker, especially in Refinery Business Unit and Aromatics Business Unit. In addition, PTTGC is the principal petrochemical and chemical company for the PTT Group. (Petrochemical Flagship)
What is the impact of volatility in crude oil price on PTTGC's performance?

Volatility in crude oil price has directly impacted on refinery business. In downward trend, crude oil intake today is inventory that the Company purchased in advance with higher cost. Therefore, it provides stock loss on refinery operation. In contrast to upward trend, crude oil intake today is inventory that the Company purchased in advance with lower cost. Therefore, the Company presumably receives stock gain. In order to manage risk from oil price fluctuation, crack spread hedging is significantly strategy that has been employed to resolve problem. However, the Company has to concern market situations and other circumstances before hedging. Besides, the continuously decrease of crude oil price also provide negative impact on petrochemical product price. On the other hand, the uptrend of crude oil price will be a good driver to push up the price of petrochemical product as well.
The way of PTTGCs' sustainability

At PTTGC, we understand sustainability as conducting our business with consideration of all three pillars - economy, social and environment, not only profit. We believe that a balance can be achieved if we remain focus and open to new innovations and concepts.

Economy : We aim to grow our company through the adoption of sustainable principles in our daily business practices. We seek to achieve this through the incorporation of innovation both strategically and operationally- to achieve sustainable business growth.

Social : As a global company, we are committed to continue embracing the principles of United Nations Global Compact Advanced Level which we will continuously seek to integrate into every area of our operations – creating value and contributing to our stakeholders, local communities and environment around us. Projects that have been established by PTTGC are shown as following.
The establishment of Rayong Science and Technology Institution and Rayong Science School.
Reforestation project at Hau Ma Had, Rayong.
Luffala Project, it contributes a better life to local people by supporting local products and bringing back profit to community.
Health Initiative Project : Chemicals Contribute Moral Support, Combat "Breast Cancer" Project. PTTGC supported LLDPE pellets as a raw material for producing breast implants for breast cancer patients.
Environment : We value our place in the environment and seek to assure of corporate responsibility by driving change for the betterment of our environment through our operations and that of our supply chain. We believe the drive for innovation will help us deliver better products to our customers and reduce our impact on the environment as a whole.
What is PTTGC's dividend policy?

The dividend payment policy of the Company is to pay dividend at a rate of no less than 30% of net profit after tax and allocation to all reserve funds of the Company. Such dividend payment however is subject to the investment plan, other necessary and appropriate considerations in the future.
Does PTTGC have site visit?

PTTGC has organized site visit activity on a timely basis. The event is held in accordance with good corporate governance policy in order to provide knowledge and understanding of PTTGC's business to shareholders and bondholders. Also, stakeholders will have a chance to explore environment and facilities of the estate that is the location of PTTGC's factories including Refinery, Aromatics, and Olefins and Derivatives Plants, along with the participation in community, social and environmental responsibility activity.
Registrar
Procedure of selling stock without trading account

Directly contact with company member of SET or for more information regarding opening trading account please contact SET call center Tel: 0-2229-2888 e-mail: TSDCallCenter@set.or.th
How to exchange the security certificate of PTTAR or PTTCH to PTTGC?

Investor who are shareholders of PTTAR or PTTCH can exchange security certificate to PTTGC at TSD between Mon-Fri 8.30-17.00 or for more information please contact tel. 02-229-2888

New issued share allotting of PTTGC to PTTAR and PTTGC stakeholders;
| | |
| --- | --- |
| PTTAR:PTTGC | 1 : 0.501296791 |
| PTTCH:PTTGC | 1 : 1.980122323 |
What should I do if I lose my securities certificates?

You must contact the Thailand Securities Depository (TSD) for the details of the lost securities certificates, and then file a police report with the provided details. Later, you must present the TSD the police report and the required documents in order to reissue you a new securities certificate in the replacement of the lost ones. Required documents are as follows:
An application form for alteration of a new securities certificates
The police report; and
Additional documents on the case by case basis.
Please mail the TSD a request letter with the required documents specified by the TSD (Please refer to the Documents required when contacting with the TSD and details of TSD address below).
Enquiry regarding stake holding portion.

Two security holding verifying methods
Scripless, directly verify with Broker company that you have registered for trading account.
For investor with securities certificates, please verify for stake holding portion with TSDs' bank registrar or call 02-229-2888.
How do I alter the information of the securities holder?

If you wish to alter the securities holder information e.g. title, name, last name, nationality and address, you have to submit an application form for alteration of securities holder information together with additional documents specified under the section of the Documents required when contacting with the TSD. You can directly contact the TSD, or mail the TSD a request letter with the required documents specified by the TSD.
How to transfer stock?
Transferor endorse on the back of stock certificate in the transferor blank area
Transferee endorse on the back of stock certificate in the transferee blank area
The transferee fills a registration requested form together with the stock certificate endorsement of both the transferor and the transferee with original signature.
Please dispatch the required documents specified by the TSD (Please refer to the Documents required when contacting with the TSD and details of TSD address below). For more information, please contact tel. 02-229-2888 TSD Counter Service between Mon-Fri 8.30-17.00