09 November 2021
GCTC signs an 824 million euro loan agreement to strengthen its low-carbon business following the acquisition of allnex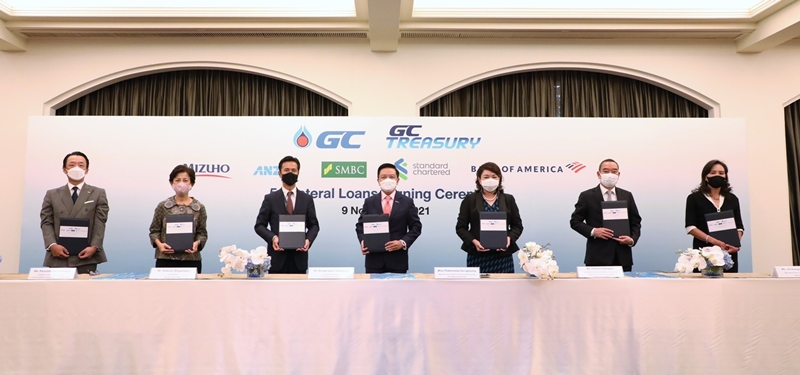 Bangkok, November 9, 2021 – GC Treasury Center Company Limited (GCTC), as the treasury arm of GC Group, successfully secured €824 million in financing from commercial banks to support strategic growth, investments, and liquidity enhancements. Mrs. Pattaralada Sa-Ngasang, Executive Vice President Finance and Accounting Division, PTT Global Chemical Public Company Limited, or GC, as the chairman of GCTC's board signed the loan agreement with five commercial banks: Mizuho Bank; Australia, New Zealand Banking Group Limited; Sumitomo Mitsui Banking Corporation; Standard Chartered Bank; and Bank of America NA, totaling 824 million euros, divided into loan agreements in both euros and a two-year loan agreement in US dollars. Dr. Kongkrapan Intarajang, Chief Executive Officer of GC, witnessed the signing ceremony.
GC Group plans to expand into high value businesses (HVBs), having previously announced a $4.1 billion acquisition of Allnex Holding GmbH (allnex), a low-carbon business leader, reinforcing GC Group's strengthened position in the HVB segment.
Proceeds from the financing will support GC's leadership in sustainability and overseas growth balancing environmental, social and governance (ESG) criteria.