02 April 2015
PTT Global Chemical Receives Ecomagination Award 2015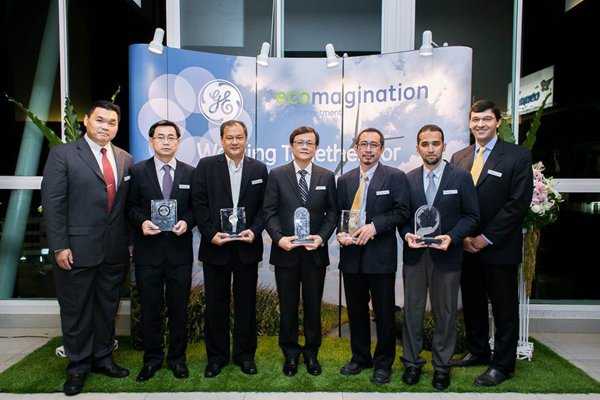 GE Water and Process Technologies Co., Ltd. (GEWT) presented the Ecomagination Award to PTT Global Chemical PLC on April 2nd 2015. On this occasion, Mr. Suvit Tinnachote, Executive Vice President, Group Performance Center - Olefins, was bestowed 3 Ecomagination Leadership Awards, and Khun Pichet Wannakachepiboon, Vice President – Olefins Plant I, was bestowed Return on Environmental Award: ROE respectively. The awards' key objective is to honor and recognize organizations that encourage positive balance towards the environment, industrial needs and the achievement of organizational goals. The award can be classified into 3 main categories; Creative Leaders for the Environment (Ecomagination Leadership Award), Development towards Environmentally Friendly Organization (Return on Environmental Award: ROE) and Successful Cost-Saving Initiatives (Proof not Promises Award: PNP).
Ecomagination Leadership Award: Anti-fouling treatment program improved caustic tower reliability, at PTTGC Branch 2. The success of this project lies in the utilization of the treatment program together with modifications of operating procedures, resulting in the reduced usage of water and solid waste. Direct advantages being achieved by the factory are fouling prevention in the caustic tower and the continuity of production capacity, which has been limited in the past due to column flooding. The factory realized cost-saving advantages from the aforementioned effects by approximately 81 million baht. The winner had been thoroughly assessed and only 0.1% of participating organizations worldwide won the award.
Ecomagination Leadership Award: Mitigation of quench oil fouling and extension of the plant's run length through the adjustment of operating conditions and the use of Petroflo* Program, at PTTGC Branch 3. This initiative had successfully extended the life of quench oil column from 5 months to 1 year, resulting in the reduced operating costs by approximately 430 million baht, as well as less impact towards the environment due to the lower usage of water and reduction of solid waste.
Return on Environmental Award (ROE): Petroflo 20Y3416 project minimized fouling for compressor and relevant problems at the downstream systems by utilizing chemicals, at PTTGC Branch 2. The factory had been able to reduce both the usage of water and solid waste at the same time. This enabled the factory to save costs due to the reduced usage of chemicals and lower budget allocation required for the cleansing and maintenance of tools and parts, which could have totaled around 13 million baht.