29 June 2023
GC Receives 5 Outstanding Awards at the 13th Asian Excellence Award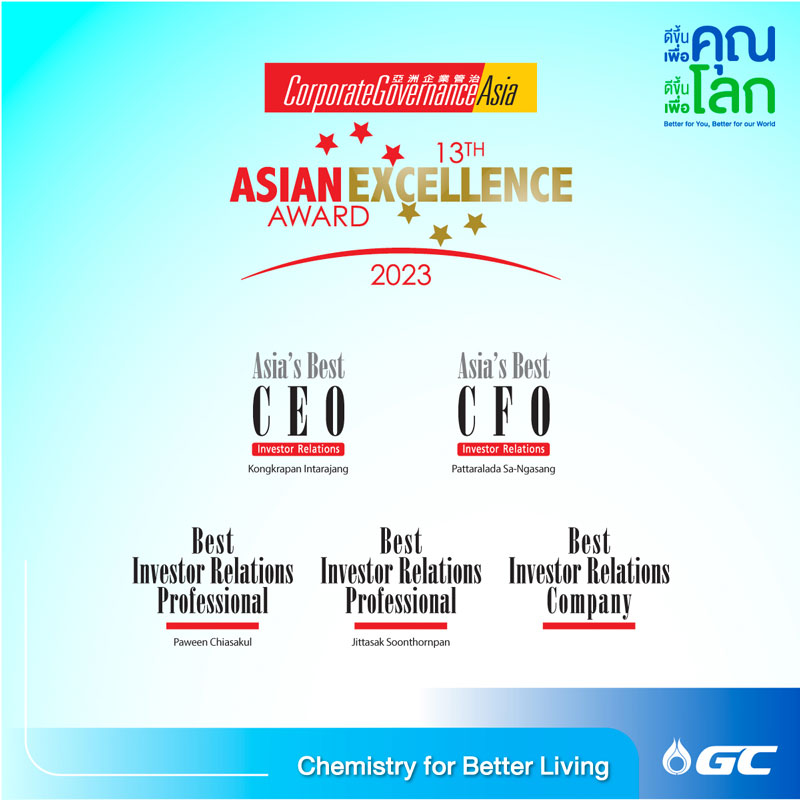 On June 28, 2023, GC proudly received the esteemed 13th Asian Excellence Award for the year 2023 (13th Asian Excellence Award), presented by Corporate Governance Asia magazine. This outstanding achievement highlights GC's exceptional leadership and excellence in business operations under excellent corporate governance. The grand award ceremony took place at JW Marriott Hotel in Hong Kong Special Administrative Region of the People's Republic of China.
GC emerged as a shining star, capturing five prestigious awards that truly signify our unwavering commitment to excellence. Dr. Kongkrapan Intarajang was honored with the coveted title of Asia's Best CEO, showcasing his remarkable leadership skills. We also proudly celebrated Ms. Pattaralada Sa-Ngasang, who was recognized as Asia's Best CFO, for her outstanding financial expertise.
Our dedication to maintaining exceptional investor relations did not go unnoticed, as to Mr. Jittasak Soonthornpan and Mr. Paween Chiasakul were commended as the Best Investor Relations Professionals. Their exceptional skills and unwavering dedication have strengthened our connection with investors and stakeholders alike.
Furthermore, GC was thrilled to receive the esteemed award for Best Investor Relations Company, further solidifying our reputation as a trusted and reliable partner for investors.
This momentous occasion has undoubtedly placed GC on the pinnacle of success, reaffirming our position as a market leader in the region. We extend our heartfelt gratitude to Corporate Governance Asia magazine and the esteemed panel of judges for recognizing our unwavering commitment to excellence.
As we move forward, GC remains dedicated to delivering unparalleled value, fostering strong relationships, and leading the industry with our exceptional team and visionary leadership.