16 August 2017
PTTGC Receives Thailand's Top Corporate Brand Value Hall of Fame Award 2017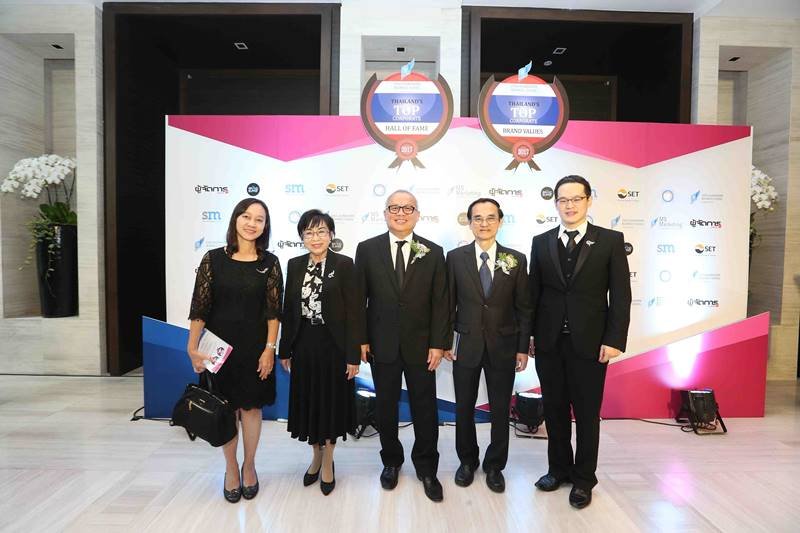 Khun Supattanapong Punmeechaow, Chief Executive Officer and President, PTT Global Chemical PCL, received the honorary "Thailand's Top Corporate Brand Value Hall of Fame Award 2017" from Prof.Dr. Bundit Euaarporn, Rector of Chulalongkorn University, with Khun Warawan Tippawanich, Senior Vice President – Corporate Affairs, jointly congratulating in Thailand's Top Corporate Brand Values award presentation ceremony 2017, held by Master of Science Program in Marketing, Faculty of Commerce and Accounting, Chulalongkorn University, in collaboration with the Stock Exchange of Thailand and affiliated media in Manager Group. The event was held on August 16, 2017 at Sukree Kaewcharoen Conference Hall, the Stock Exchange of Thailand.
The honorary Thailand's Top Corporate Brand Value Hall of Fame Award 2017 is presented to 5 organizations with the highest brand values for 5 consecutive years from 2012-2016. This year marked the first year that the award is granted, whereby PTT Global Chemical got awarded in the petrochemical and chemical product category, Sabina in the fashion business category, SCG in the construction material business category, Advanced Info Service in the information technology and communication business category and Siam Commercial Bank in the bank business category. In this regard, this particular award is expected to encourage creation and development of corporate brands on a continuous basis in order to build trust for the society in which the organizations operate, enabling the organizations to grow strong and producing positive impact on the country's economic system.
Brand value evaluation tool 'CBS' features the extraction of figures from the annual statement of financial position, which is the information that any registered companies must disclose to the public, to calculate. The valuation formula for brand value is the mathematical formula derived from marketing, finance and accounting concepts, enabling accurate calculation of corporate brand values into financial figures.