15 January 2016
PTT Global Chemical Participates in Children's Day Activities 2016 Hosted by PTT Group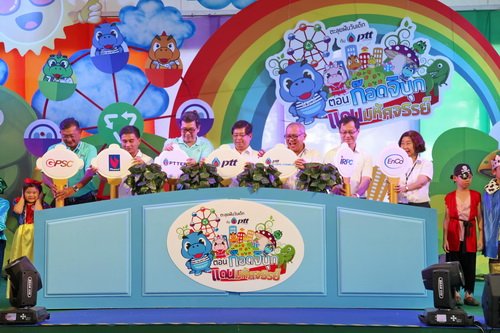 Khun Supattanapong Punmeechaow, President and Chief Executive Officer, PTT Global Chemical PLC, participated in the opening and prize-drawing ceremony in the Children's Day Activity 2016, held by PTT Group, with the theme 'Living the Children's Dreams with PTT Group', Episode "Godji in Wonderland", together with PTT Group's executives. On this occasion, Khun Tevin Vongvanich, Chief Executive Officer and President, PTT PCL, was present as the guest of honor on January 9, 2016 at PTT Building, head office, Bangkok.
The objectives of this activity are to make children and their families happy, as well as to provide knowledge and learning entertainment with PTT Group on various areas; environment and surroundings and also to nurture awareness of environmental and energy conservation, maintaining the green planet and to evoke imagination and creativity as children are critical resources for the sustainable national development, as stated in the Children Day's motto 2016, "Be Well-Behaved, Be Diligent, Enhance Learning, for the Better Future".
The 'Godji in Wonderland' activity with PTT Group this year was categorized into 8 zones; the World of Petroleum Van > Jurassic Town > Photo Backdrop > Wonderland > Joyful Language > Green Industrial Zone, featuring 6 PTT Group's affiliates, with "Miraculous Petrochemical, Endless Values with Proper Utilization" activity, hosted by PTTGC > Seedlings of Sustainable Happiness > Young Inventor Activity. Additionally, there was an animation film 'Khun Thongdaeng the Inspirations' playing in the Auditorium as well. On the same say, PTT Group also held the 14th Children's Day Activity at the HRH Princess Maha Chakri Sirindhorn Herb Garden, Rayong province, for children in Rayong and nearby localities.