28 February 2020
PTT Group Donates Funds to the Virtual Walk and Run as part of PTT Group Sports Day 2020 in Support of Four Hospitals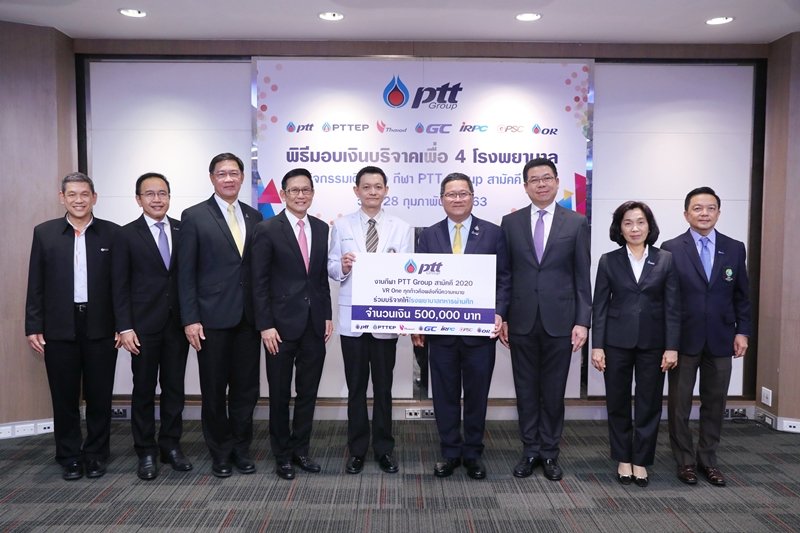 GC, led by Dr. Kongkrapan Intarajang, Chief Executive Officer, Dr. Chaya Chandavasu, Senior Vice President, Sustainability and Corporate Branding, along with PTT Group executives from PTT, PTTEP, TOP, IRPC, GPSC, and OR joined together to present a THB 2,000,000 donation at the Virtual Walk and Run, as part of PTT Group Sports Day 2020 for the following four hospitals: Veterans General Hospital in Bangkok, Wangchan Hospital in Rayong, Memorial Hospital Sirindhorn in Rayong, and Queen Savang Vadhana Hospital in Sri Racha, Chonburi, on February 28, 2020 at PTT's head office.
On the same day, Mr. Boonchai Chunhawiksit, Acting Senior Executive Vice President, Upstream Petrochemical Business, GC and PTT Group's representative, also donated THB 500,000 from the Virtual Walk and Run to the four designated hospitals. The event took place at Memorial Hospital Sirindhorn in Rayong while Deputy Hospital Director, Dr. Supphachai Iamkulworaphong, and Chief of the Pharmaceutical Division, Jaruwat Jitsopakul, received the donation.
This year, the event was initiated under the concept of "V R ONE: Make Every Step a Powerful, Meaningful Step" for which PTT Group executives and employees participated in helping sustain people's health and well-being in the midst of the COVID-19 crisis through a virtual walk and run which took place throughout February.