24 November 2015
PTT Global Chemical Welcomed the Shareholders for Company Site Visit.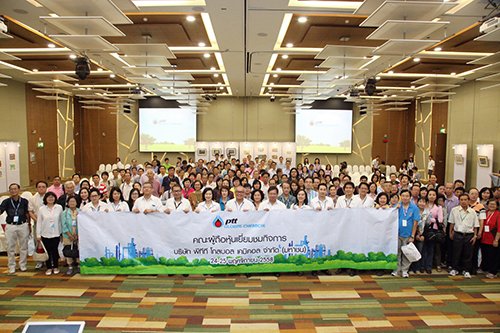 Mr. Supattanapong Punmeechaow, President and Chief Executive Officer of PTT Global Chemical PLC (PTTGC) together with the executive team and staff welcomed the two groups of the shareholders for a company site visit by presentation and answering all the questions at Synergy Hall 6th Floor, Energy Complex, Building C. After that, the shareholders visited the factory which is a subsidiary of PTT Global Chemical at Rayong Province. Moreover, there was a staff presenting along the way for a company site visit. The events were held on 24th and 25th November 2015.
In the afternoon, Mr. Kun Patumraj, Chief Operating Officer – Upstream Petrochemical Business, Mr. Varit Namwong, Executive Vice President – Organizational Effectiveness, Mrs. Warawan Tippawanich, Senior Vice President – Corporate Affairs, shareholders, executive team, and staff released 8,000 fish and 25 sea turtles per day, and they also polished turtle shells and turtle ponds. In addition, they supported the turtle home program for 50,000 Baht at Sea Turtle Conservation Center, Royal Thai Navy, Sattahip, Chon Buri Province.
The company site visit program was held in accordance with good corporate governance policy in order to provide knowledge and understanding of PTTGC's business to shareholders. Shareholders will also have a chance to explore the environment and facilities of the estate which is the location of PTTGC's factories including Refinery, Aromatics, and Olefins and Derivatives Plants, along with the participation in community, social and environmental responsibility activity.