17 December 2018
Seminar on "Thailand's Economic Outlook Following the 2019 General Election" organized by Chulalongkorn Engineering Alumni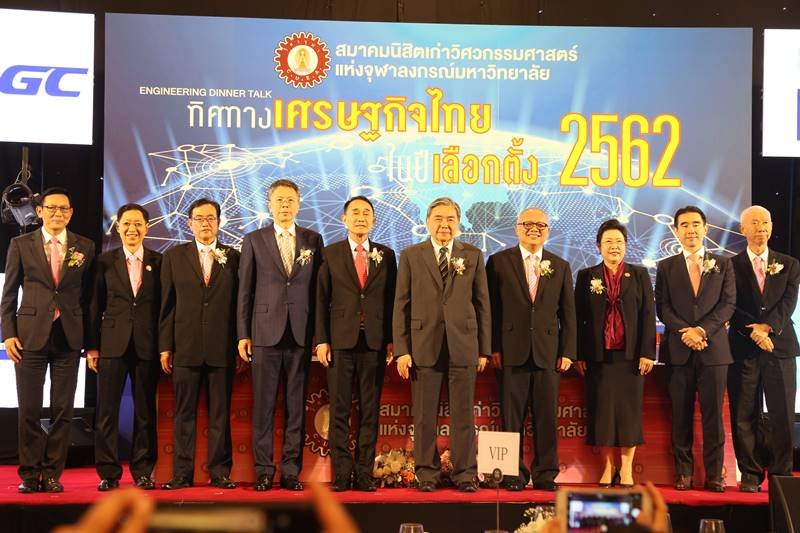 Chulalongkorn Engineering Alumni recently hosted a seminar titled "Thailand's Economic Outlook Following the 2019 General Election," which was viewed as an important event to hear an exchange of ideas while providing the latest economic trends and an outlook on the coming year, to help empower Thai society to live and work with an eye to a better future. With the end of the year approaching, this seminar was a hugely popular event. It was organized with an aim to provide the public with the latest and most relevant knowledge and information on a variety of interesting subjects including food and healthcare, beauty, well-being, and especially Thai economic issues.
The seminar kicked-off with a speech by Apisak Tantivorawong, Minister of Finance and a Chulalongkorn Engineering Alumnus, who provided an insightful overview of Thailand's economy for 2019. He stated that the country will likely have GDP growth of 4%, and that Thai investors and the industrial sector are expected to continue investing as they are gaining confidence in the government's investment promotion policy, particularly the much-anticipated Eastern Economic Corridor (EEC) which aims to revitalize and enhance the Thai economy. His speech ended by emphasizing the need for human development as another main engine to drive positive changes for Thailand. A human development-centered approach includes support for education, which is a crucial component for Thailand's national development plan.
This was followed with another talk by an alumni of Chulalongkhorn's Engineering Faculty, Ajarin Pattanapanchai, Permanent Secretary – Ministry of Digital Economy and Society, who updated the audience about the importance of investments in advanced technology, including 5G networks and Big Data, and how government agencies are continuing to prepare in terms of organizational readiness and their ability to better handle the country's economic development. She stressed that research and development goals continue to rely on important efforts by the education sector, which requires further support.
Mr. Auttapol Rerkpiboon, Chief Operating Officer – Downstream Petroleum Business Group of PTT Plc., noted that crude oil prices in the global market are expected to reach between 65 to 75 USD per barrel. At the same time, retail prices of finished oil products are expected to remain largely unchanged from the previous year, in the 25 to 30 baht per liter range, depending on the Fuel Fund's collection policy and the government's excise tax collections.
Mr. Supattanapong Punmeechaow, President – Chulalongkorn Engineering Alumni, said that the alumni association has successfully operated with the strong collaboration of its members who hold C-level positions in various industries. This seminar provides them with an opportunity to share their visions and forecasts regarding the direction of the economy next year. The year 2019 is seen as an important one for all sectors, given the significant changes set to take place in political and economic circles. Meanwhile, the visions and ideas exchanged by the seminar's speakers, who are all experts in their fields, were positively received by the seminar participants, especially in light of the important technological changes currently taking place. Given these changes, it's important that the business sector is flexible and adapts by improvements to the workforce and skills enhancements that support the influx of the latest technologies.
The seminar was established as a major event that is set to take place annually, providing an important opportunity to exchange ideas among Chulalongkorn engineering alumni, who are experts in both the public and private sectors, and who are enthusiastic about sharing their knowledge and insights which, in turn, can contribute to positive improvements for society.
To view a full version of the seminar, go to https://www.facebook.com/ChulaEngineeringAlumni/
Other speakers included Kan Trakulhoon, Chairman of the Management Advisory Committee – Siam Cement Group; Kongkiat Opaswongkarn, Chief Executive Officer – Asia Plus Securities Public Company Limited; and Aswin Techajareonvikul, CEO and President – Berli Jucker Public Company Limited (BJC).