17 August 2017
PTTGC Signs MOU with A.K. Pack & Machinery Company Limited in Developing Plastic Packaging in Myanmar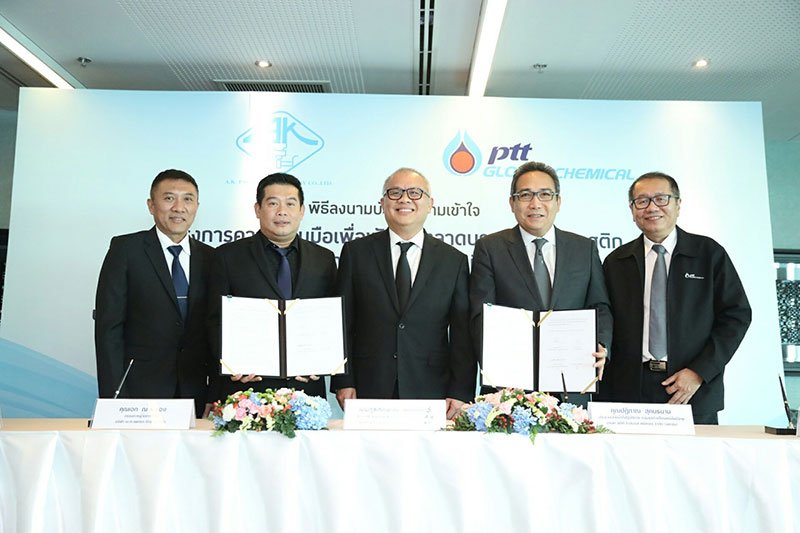 Khun Supattanapong Punmeechaow, President and Chief Executive Officer, PTT Global Chemical PLC, was the guest of honor in the MOU signing ceremony for the development of plastic packaging in the Union of Myanmar between A.K. Pack and Machinery Company Limited and PTT Global Chemical PLC, with Khun Patiparn Sukorndhaman, Chief Operating Officer – Downstream Petrochemical Business and Khun Ake Na Ranong, Managing Director, A.K. Pack and Machinery, signing the MOU, together with Khun Pairote Utaisup, Executive Vice President – Polymers Business Unit, participating in the event on August 17, 2017 at Banquet Room, Floor 5, Building C, Energy Complex.

This particular MOU was the result of the Company's identification of market expansion opportunity in neighboring countries that have high growth potential especially CLMV countries, with approximately 170 million citizens and higher demand for plastic packaging. The expansion to neighboring countries will serve as a springboard for higher production in terms of quantity and diversity of products, especially as feedstock for customers to manufacture products that can satisfy demands of end users.

This collaboration is considered the joint effort in driving the Thai economy to grow and expand to neighboring countries, with strong potential in developing the business, strengthening production base and providing support on technical information in terms of new formula development and sharing of knowledge and experiences, ultimately for the sustainable growth of the business.