25 June 2018
GC signs Memoranda of Understanding (MoUs) with companies & partners in the United Kingdom and France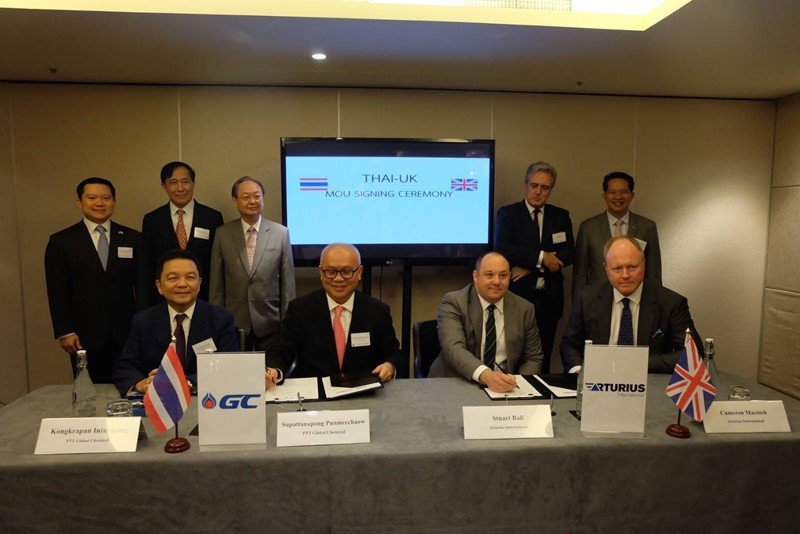 Mr. Supattanapong Punmeechaow, President and CEO; and Dr. Kongkrapan Intarajang, Chief Operating Officer - Upstream Petrochemical Business, PTT Global Chemical Public Company Limited (GC), together with a Thai delegation comprised of cabinet ministers and senior businessmen, recently participated in an official visit to the United Kingdom and France.
GC was among a group of Thai investors committed to supporting the government's Thailand 4.0 policy and promoting cooperation for international investments.
During the visit, GC signed three memoranda of understanding (MoUs) with companies in the United Kingdom and one MoU with a company in France.
On June 21, 2018, Mr. Sontirat Sontijirawong, Minister of Commerce, witnessed the signing of MoUs with companies in the United Kingdom. The MOUs, for potential business opportunities and partnerships through the Thai-UK Business Leadership Council (TUBLC), were:
A MoU signed with Mr. Zak Doffman, CEO of Digital Barriers, to jointly identify solutions to apply safety innovations to GC's pipelines, such as the application of ground sensors and the extension of the existing smart CCTV capacity.
A MoU signed with Mr. Stuart Ball, CEO of Arturius International, for a new cooperation agreement to apply safety innovations to GC's facilities such as Offshore Single Point Mooring

(

SPM

)

, Interconnecting Pipeline Security, and a safety system center.
On June 25, 2017, GC also signed a MoU with Dassault Systèmes of France to design, plan, and conduct technology-based visualization construction of data that analyzes and connects planning systems with operating systems for engineering in facilities to improve efficiency, lower operating times and shorten turnaround times.This will also help establish a foundation for the company's engineering technologies and upgrades for the use of big data in the future. In addition, the partnership reflects the Thailand 4.0 vision of applying digital technology and advanced innovations in the Eastern Economic Corridor (EEC).
The signing of the MoU was hosted by Thailand's prime minister, in cooperation with the France-Thailand Business Forum (FTBF). Dr. Kongkrapan also attended a seminar held to attract French investors to the EEC.
The various signing ceremonies were held as part of the occasion of GC joining a delegation led by Thailand's Prime Minister, General Prayut Chan-o-cha, on an official trip to the United Kingdom and France from June 19 to 26, 2018.