30 September 2020
GC, the Ministry of Natural Resources and Environment, and Food Delivery Service Operators Sign an MOU on Environmentally Friendly Food Delivery in the New Normal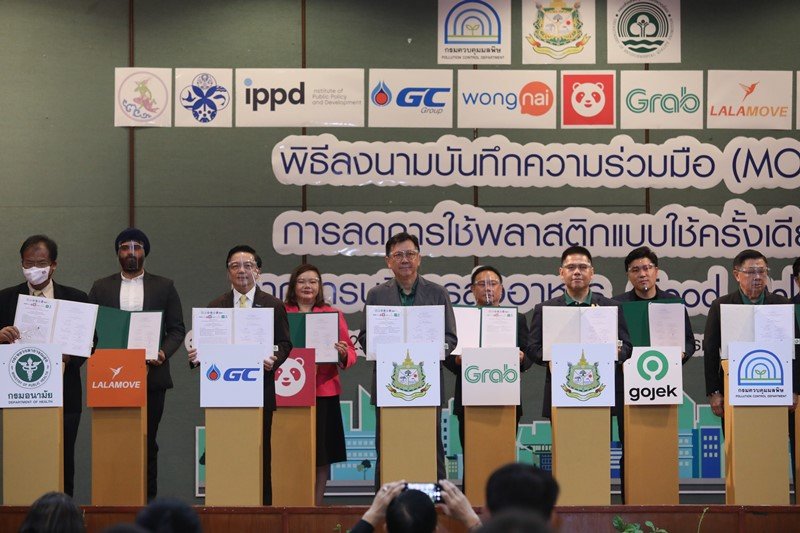 GC has had a vision of producing eco-friendly products since 2011 and has invested in its bioplastic business, in which compostable bioplastics are used to develop different eco-friendly products and packaging to handle the COVID-19 pandemic. This bioplastic packaging is helping to reduce transmission of the virus and protect the environment.
On September 30, 2020, Dr. Kongkrapan Intarajang, Chief Executive Officer of GC, signed a Memorandum of Understanding (MoU) to Reduce the Use of Single-Use Plastics in Food Delivery responding to "Environmentally Friendly Food Delivery in the New Normal." Mr. Warawut Silpa-archa, Minister of Natural Resources and Environment, presided over the MOU ceremony which included the Pollution Control Department, Department of Environmental Quality Promotion, a group of food delivery service providers and 13 related agencies. This partner network is pleased to be working together to encourage the public to reduce the use of single-use plastics by food delivery services and shift to eco-friendly products. The signing ceremony took place at the Department of Environmental Quality Promotion, Bangkok.
"We anticipate this partnership will provide environmental benefits, encourage more consumers to use bioplastic packaging, and upgrade the domestic agricultural and bio-industrial sectors all of which will help strengthen the country's bio-economy, circular economy, and Bio Circular Green (BCG) economy. GC will play a pivotal role in providing bioplastic resin and product packaging designs while cooperating in the development of materials used by food delivery services. We will also rely on the GC Compostable Label to certify that a product or packaging from an operator is either produced from compostable bioplastics or developed through a manufacturing process certified by GC group ensuring credibility in the process," said Dr. Kongkrapan.