19 August 2020
GC partners with PTT and GCME to Develop Microchannel Heat Exchanger Technology Saving roughly 40 Million Baht, Replacing Imports and Reinforcing PTT Group's Leadership Position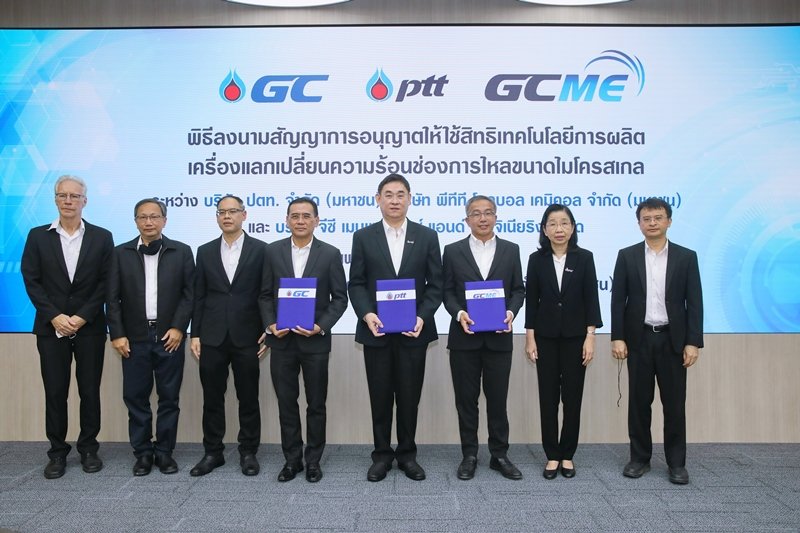 Given that innovation plays a pivotal role in reinforcing PTT Group, GC and PTT recently joined together to combine their knowledge and expertise to develop Microchannel Heat Exchanger technology for commercial use. This joint project, in development for five years, will provide cost-savings of around 40 million baht per year, and pave the way for new market penetration by replacing existing heat exchangers used in the LNG, LPG, and HVAC industries as well as the food industry.
On August 19, 2020, Mr. Varit Namwong, Chief Operating Officer – Center of Excellence, Mr. Worawat Pitayasiri, Senior Executive Vice President of Innovation and Digital at PTT Public Company Limited (PTT), and Mr. Piroj Samutthananont, Managing Director of GC Maintenance and Engineering Co., Ltd. (GCME) joined together to participate in the signing ceremony of the License Agreement for the Development of the 'Microchannel Heat Exchanger' project which took place at the Palang Thai room at PTT's head office. This cooperation on technological development is set to provide the following benefits:
Using knowledge of Microchannel Technology, which is especially designed to reduce the current manufacturing process by 70-90%.
Reducing the current temperature of hydrocarbons generated in the manufacturing process by 5-20°C which can help increase the condensation process of hydrocarbons into liquids.
Saving roughly 40 million baht per year.
Applying for over 40 patent registrations for inventions and product designs both domestically and internationally.
As technology providers, both PTT and GC acknowledged GCME as a leading Maintenance and Engineering Solutions Provider which can further develop this valuable technology for commercial use. Furthermore, the research and development process is underway to penetrate the market by substituting current heat exchangers used in the LNG, LPG, and HVAC industries as well as the food industry.