10 February 2023
GC and Sansiri collaboration on setting up Drive-Thru Recycling Stations Using YOUTURN to facilitate waste separation and disposal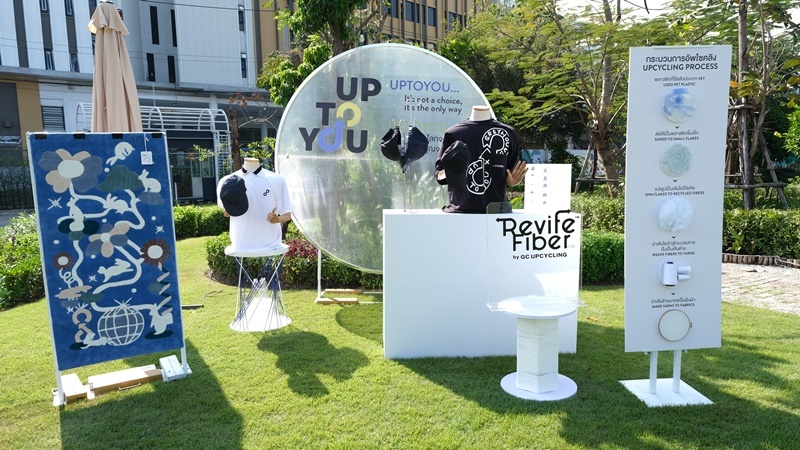 Bangkok, 10 February, 2023, PTT Global Chemical Public Company Limited, or GC, in reiterating the commitment to keep forging ahead with sustainability initiatives and commitments by utilizing "YOUTURN", a holistic plastic waste management platform – from segregation, disposal, logistics, to recycling and upcycling into fashionable green products, joined hands with Sansiri, Thailand's leading property developers and a leader in sustainable transitioning for the environment, to inaugurate the "Drive-Thru Recycling Station" at the Sansiri Backyard within the compounds of the T77 Community, as an installation to provide knowledge on waste segregation in a simple and practical manner, while encouraging the Sansiri tenants to sustainably and properly segregate waste into designated types and to dispose of them in their appropriately colored bins, by grouping them for recycling such as PET bottles, HDPE bottles, stretch film plastic bags, aluminum cans, and glass bottles.
Through the concept of "YOUTURN starts with YOU", "YOUTURN" starts off with appropriate waste segregation then disposes the plastic waste in a proper manner, for which "YOUTURN" will then proceed with the collection and final segregation of the plastic waste and transport them to GC's ENVICCO Plant – a world-class recycling plant producing high-quality food-grade recycled plastic resins. This will ensure that the care and attention of everyone in segregating and properly disposing of plastic waste are not in vain and will be met with due care from GC and be recycled back into use instead of going to landfills and utilized to the optimum as per Circular Economy principles and in turn helping to reduce the effects of global warming at the same time.
YOUTURN will set up the "Sansiri x GC: Drive-Thru Recycling Station" from today until June 2023, at the Sansiri Backyard within the T77 community.
#GCChemistryforBetterLiving #BetterForYouBetterForOurWorld #YOUTURNStartsWithYou
>