09 February 2020
GC Collaborates with GPSC to operate a Smart Energy Storage System, Thailand's Largest Energy Technology and Innovation Prototype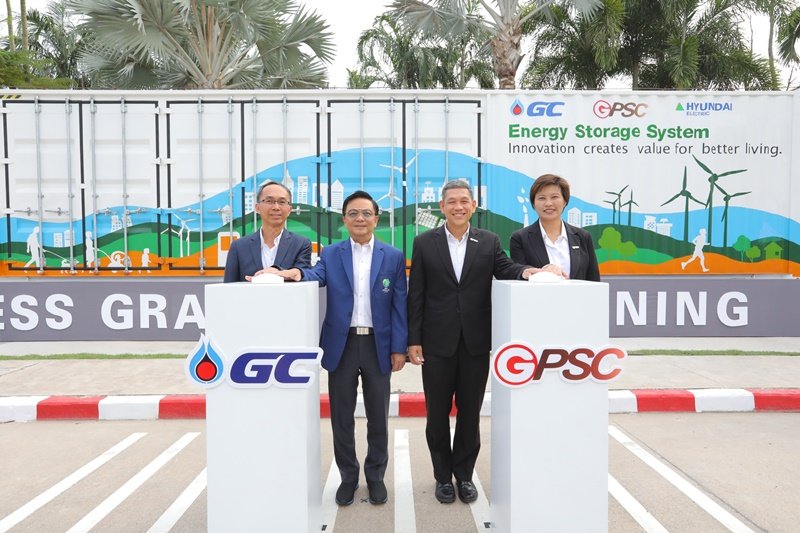 GC, and GPSC, have joined together to begin operations of a Smart Energy Storage System (ESS) that can run at a full capacity of 1.5 megawatt-hours (MWh) to be used as a back-up power system for the biggest industries in Thailand. The project aims to increase the stability and efficiency of power systems for office buildings and GC's Innovation and Technology Center in Rayong province. The ESS will reduce electricity costs by 520,000 electrical units, or 8.7% per year. It is a prototype for PTT Group's energy technology and innovations.
Planning is underway to expand this system to support other companies in Eastern Thailand, helping GC become a leader in energy innovations in Thailand. Led by Dr. Kongkrapan Intarajang, Chief Executive Officer, the event was joined by Mr. Boonchai Chunhawiksit, Acting Senior Executive Vice President, Upstream Petrochemical Business; Mr. Supasit Tongsupachok, Senior Vice President, Group Performance Center-Utilities; together with GPSC executives, Mr. Chawalit Tippawanich, President, and Chief Executive Officer (Executive Director) and Mrs. Rosaya Teinwan, Executive Vice President, Business Development and Corporate Strategy at GC's Rayong office on February 18, 2020.
"The project is in line with GC's policy of encouraging sustainability through smart operations by deploying new technologies that improve the manufacturing process and energy and resource management to ensure maximum efficiency. This demonstration project can be put into practice in a concrete way as it enhances the efficiency, stability, and reliability of the main power system. It also reflects GC's digitalization policy by using data analytics to calculate the demand for electricity during each time period and ensuring the most energy-efficient management at all times through automated control systems. GC plans to replicate the installation of the ESS to GC Group's petrochemical plants to enhance their reliability in the future," said Dr. Kongkrapan.