31 January 2023
GC and OR join forces to step up collaboration in business and development sustainability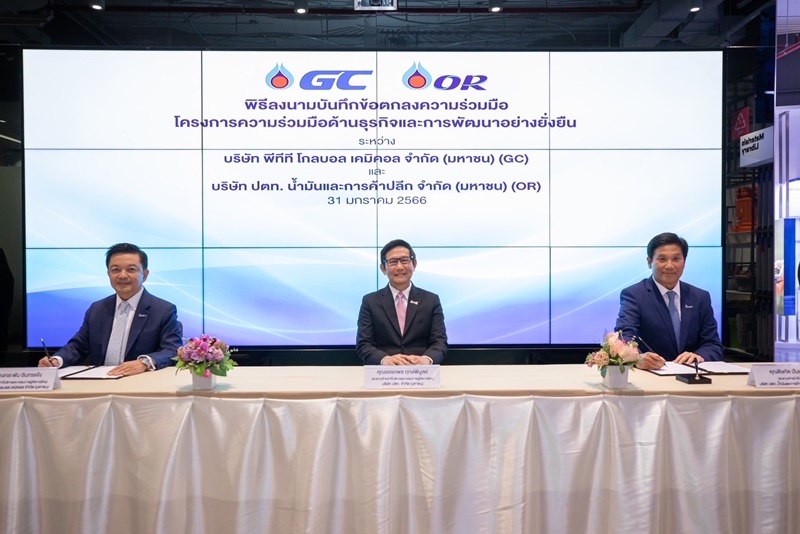 31 January 2023, the PTT Group are joining forces to further strengthen, and uplift added value in business and sustainability in operations, culminating in the Memorandum of Understanding (MOU) signing ceremony for the Business Cooperation and Sustainable Development between the PTT Global Chemical Public Company Limited, or GC, and the PTT Oil and Retail Business Public Company Limited, or OR. This collaboration covers 4 major areas: Knowledge Management Development on Sustainability, Building Energy Security, Sustainably Operating Business along the Value Chain, and Business Development. Mr. Auttapol Rerkpiboon, President and Chief Executive Officer of the PTT Public Company Limited, or PTT, presided over the signing ceremony with Dr. Kongkrapan Intarajang, President and Chief Executive Officer of GC and Mr. Disathat Panyarachun, Chief Executive Officer of OR, as the two signatories of the MOU that was signed at the Cooperation and Product Development Center (CSC) at the Energy Complex.
Mr. Auttapol Rerkpiboon, CEO of PTT, said that this collaboration of the two organizations under the PTT Group is in accordance with the PTT Group's strategy in utilizing the strength of each organization to co-uplift added value to business, with GC as the leader in the Global Chemicals Business, possessing innovations that are environmentally friendly and with advanced technology utilized in products development, a model in organizational sustainability, while OR is the leader in the oil and retail business in Thailand with a customer base covering the entire nation. Therefore, this collaboration is indeed a fortuitous occasion. It is hoped that this collaboration will expand and grow to become a synergy within the PTT Group in other facets in the future to capture further benefits for the organization and our nation.
Dr. Kongkrapan Intarajang, CEO of GC, stated that GC is committed to operating our business based on the principle of sustainability and a balance between the environment, society, and governance, with a goal of becoming a Low Carbon Business, fostering growth whilst reducing GHG emissions. This collaboration brings together the strengths of GC in various dimensions, such as in achievements in sustainability that are well-recognized in the international arena, in producing a great variety of chemical products, especially in products that are environmentally friendly such as bioplastics that are ranked as world's top producer, ASEAN's largest producer of world standard recycled plastics. With GC having a comprehensive platform for waste management (YOUturn Platform) together with OR's strengths in business modeling - a physical platform that reaches all consumer sectors - this collaborative MOU is just the beginning, and for which we believe shall achieve all desired targets and create mutual value and sustainable growth.
Mr. Disathat Panyarachun, CEO of OR, mentioned that this collaboration with GC is in accordance with the theme of pooling the strengths within and outside of the PTT Group of OR or "Synergy for Impact" that simultaneously opens the door towards mutual growth by utilizing the strengths of OR and GC in 4 aspects, namely developing knowledge in sustainability (Knowledge), creating security in energy supply (Energy), cooperation in sustainably operating business throughout the value chain (Synergy) and the cooperative efforts in developing businesses (Explore). Additionally, this collaboration is also in accordance with OR's fostering of future business sustainability via OR's SDG that will efficiently address OR 2030 Target, especially in the aspect of "G" or "Green" that aims to create a healthy environment to achieve carbon neutrality within 2030, leading up to the goal of becoming the Net Carbon Zero organization in 2050.
The Business Cooperation and Sustainable development in the 4 facets are:
Cooperation in the development of knowledge on sustainability through GC's sharing of knowledge and experiences, as well as providing advice to enhance knowledge in operations in sustainability and Decarbonization that complies with international standards, and OR sharing knowledge in designing business models and marketing communications, to grow together with society and communities throughout the value chain.
Cooperation in forging energy security, which is cooperation in the energy supply chain, such as the production, procurement, and trading of refined oil and alternative energy products.
Cooperation on sustainable business operations throughout the value chain, for example, jointly uplifting the results of comprehensive used plastic management with GC's YOUTURN Platform and OR's Yak Lak Yim project, feeding the wastes to the recycling process and produced into value-added products that help to reduce plastic waste issues together with reducing greenhouse gas emissions, and jointly study and develop the utilization of sustainable materials and packaging to be used in OR's retail business group, including the collaboration to expand the EV Station Pluz electric charging station and FIT Auto maintenance service outlets, as well as the joint study and development of the application of OR products such as lubricants in factories and equipment in GC's plants.
Business Development Cooperation, jointly study the feasibility of business development to promote the value chain in the OR retail business by using raw materials from the GC group.
By joining forces to foster business cooperation and sustainable development, both GC and OR will be able to create additional business value whilst caring for the environment and society for sustainable growth together.
>