30 December 2021
PTTGC International (Netherlands) B.V., subsidiary of GC, announces completion of acquisition of allnex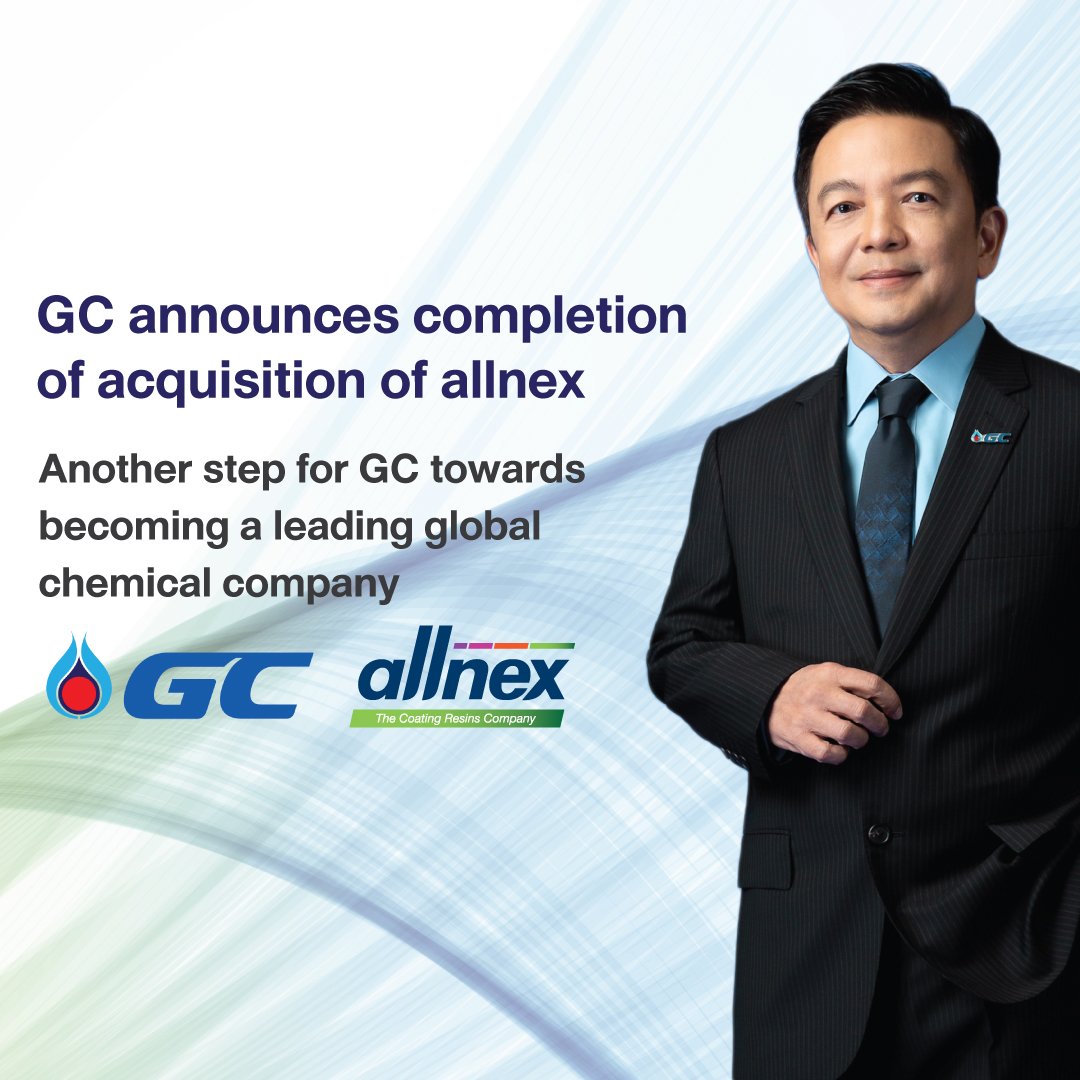 Bangkok, December 30, 2021 – PTTGC International (Netherlands) B.V. ("GC Inter B.V."), a wholly owned subsidiary of PTT Global Chemical Public Company Limited ("GC"), today announced the completion of its acquisition of industrial coating resins producer Allnex Holding GmbH ("allnex"), further strengthening its leading position as a global chemicals company by combining environmentally friendly innovations with advanced technologies, with an expansion to 33 production sites and 23 technology centres globally.
This acquisition on allnex highly fits to the GC Group's growth strategy with the aim to diversify The Company Group's business toward specialties arena, specifically to increase profit contribution from and capture growth opportunities in High Value Business (HVB), which matches the global megatrend. allnex who is a global leader in specialty coating resins business can serve as future growth platform of GC Group to further build its position in HVB business at the global level. GC expects to collaborate with allnex to enhance the synergies while further add values to allnex's unique qualities and enhance its competitive edge, and to work together to preserve allnex's strength while creating more opportunities and synergies in business, growth, innovation, and operational excellence.
"We are excited to officially welcome allnex and its extraordinary team into the GC family. We expect this will enable and accelerate the impact of our low-carbon strategy to solidify our leadership position, and provide our customers innovative value propositions, as part of our Chemistry for Better Living commitment" said Dr. Kongkrapan Intarajang, CEO of GC.
"As the global leader in industrial coating resins, with its broad portfolio, outstanding performance, and leading green technologies, the acquisition of allnex allows both companies to benefit from increasing demand for high performance coating resins; a continued shift of growth to emerging markets, and the trend towards green coatings solutions. GC and allnex will continue driving innovation through enhanced R&D and knowledge sharing, as well as deliver unwavering support to sustainability through investments in new and sustainable technologies. We look forward to working together to leverage our shared growth potential with various synergy levers (e.g., upselling/cross-selling, innovation acceleration and specialty chemicals growth penetration in APAC), as we continue to reinforce our business strengths and create shared value for society by supporting communities and the environment."
Miguel Mantas, allnex CEO, said "We are very happy to become part of the GC family. We look forward to working with GC, whose resources, industrial network, and expertise will help drive long-term sustainable growth, as we continue to invest in innovative technologies and create synergies together to reach our shared growth potential."
………………………………
About PTT Global Chemical Public Company Limited
PTT Global Chemical Public Company Limited, or GC, was registered as a public company limited on October 19, 2011, to serve as PTT Group's chemical flagship operation. GC's heritage in the industry originated from the merger of several major companies including National Petrochemical Co., Ltd. in February 1984.
GC's vision is to be a leading global chemical company for better living as we combine environmentally friendly innovations with advanced technologies to develop products that improve people's lives, while playing a vital role in contributing economic growth and balancing environmental sustainability. GC has been rated number one in the world for sustainability in DJSI Chemicals Sector for three consecutive years.
Aligned with the Paris Agreement, we have clear pathways and investment for our "Together to Net Zero" Roadmap to improve quality of life for all with a transition to low carbon business through a three-pillar of Low Carbon Transition Framework, in order to reduce current greenhouse gas emissions for 20 percent by 2030 on our journey towards achieving Net Zero emissions by 2050.
About allnex
allnex is the leading global producer of industrial coating resins and additives for architectural, industrial, protective, automotive and special purpose coatings and inks. allnex is recognized as a specialty chemicals pioneer and offers an extensive range of products including innovative liquid resins and additives, radiation cured and powder coating resins and additives, and cross linkers for use on wood, metal, plastic and other surfaces. Today, allnex has a strong global presence with 4000 employees worldwide, 33 manufacturing sites, and 23 research and technology support facilities.
………………………………