23 June 2023
GC partners with PFG to collaborate and further develop sustainable product solutions, promoting long-term business operations.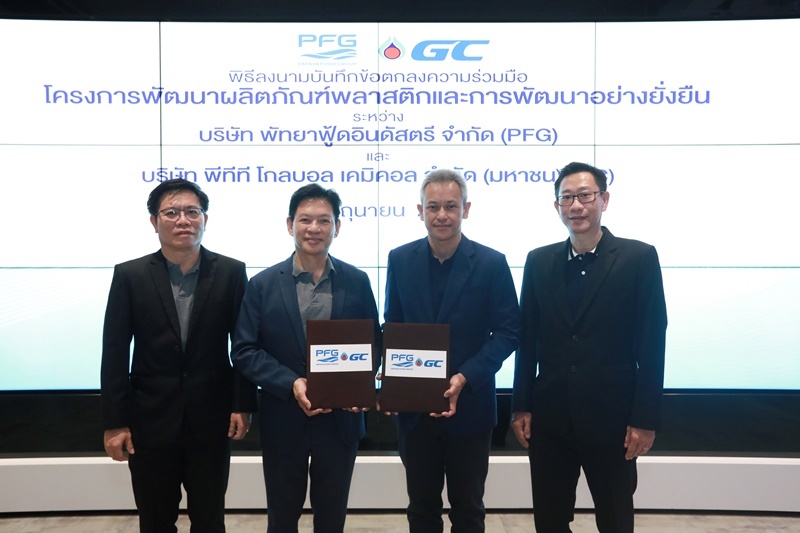 June 23, 2023, Bangkok, a momentous partnership was formed. GC Global Chemicals Public Company Limited (GC) joined forces with Pattaya Food Industries Co., Ltd. (PFG). Together, they embarked on a journey of collaboration and sustainable business development.
This strategic partnership aims to unlock new possibilities and drive the creation of sustainable product solutions. Through a shared vision, GC and PFG are committed to exchanging knowledge, sharing valuable insights, and jointly developing materials and packaging that align with sustainable principles.
GC, with its expertise in alternative and eco-friendly materials, will support PFG's operations, empowering them to embrace sustainability in their business practices. This collaboration encompasses the fundamental pillars of environmental consciousness, social responsibility, and governance (ESG). By upholding these values, the partnership aspires to uplift lives and foster a better future for all.
GC and PFG have come together to organize an impactful initiative aimed at addressing the issue of global warming and promoting waste management awareness among PFG employees. Through the Waste for Life project by PFG and in collaboration with the close-loop plastic waste management system provided by GC YOUTurn, they have undertaken a mission to collect used PET bottles then processed through the upcycling process, transforming them into eco-friendly uniforms and distributed to PFG employees across Thailand, Vietnam, and China within the year 2023. The project has already successfully collected a total of 51,283 PET bottles (equivalent to 790 kilograms), resulting in a reduction of over 1,830 kilograms of carbon dioxide emissions (kgCO2e). This showcases the significant environmental impact achieved by diverting plastic waste from landfills and reducing greenhouse gas emissions.
#GCChemistryforBetterLiving #BetterforYouBetterforOurWorld #ดีขึ้นเพื่อคุณดีขึ้นเพื่อโลก #PFG
>