22 November 2011
PTT group has set up an Emergency Management Center at sixth floor of PTT Head Quarter on Vibhavadi Rangsit road.
It is undeniable that the current flood situation has caused the major damage to the country and citizens, which are all confronting the same consequences. At the present time, every Thais from every sectors unite help to support the country to pass through the crisis
PTT group has set up an Emergency Management Center at sixth floor of PTT Head Quarter on Vibhavadi Rangsit road. The Center is a joint operation between PTT Exploration and Production, IRPC, ThaiOil and PTT Global Chemical, for flood relieve and restoration for all affected citizens. All level of employees is contributing themselves in liberating the country. The EMC Plan can be divided into three phases
Phase 1: Relief
For the preliminary flood relief, PTT Group tried to allocate help to affected people by donations to several sectors. Moreover, 50,000 survival packs distributed across the country.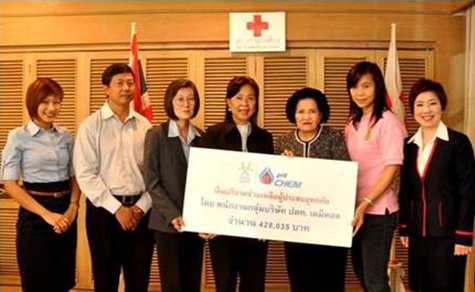 Phase 2: Protection and assistance
PTT Group has set up a flood relieve center in five affected provinces, namely Nakornsawaan, Pitsanulok, Ang-thong, Ayudhaya and Saraburi. Several services are available at the flood relieve center to continually offer and help affected people, which included food and drinking water for 15,000 people per day, mobile phone battery charging service, medical check-up by qualify doctors, mobile toilets, hair-cut service and etc. Furthermore, to support Thai's government, we have PTT Rescue Team, which is dedicated and ready to rescue employees and their families as well as Thai citizens.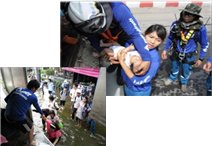 Phase 3: Restoration
Flood alleviation is not the only PTT Group's facilitation that has been offering to affected people, but also we have restoration project in alignment with the flood relieve program. The restoration project plan focuses on the four basic needs, namely sanitation, public health, habitation and career development. Examples of activities are temples, schools and public park clean up and restoration, mobile clinic, electronic devices repairing, vehicle check-up and repairing, agriculture, EM ball preparation and distribution. These activities are the PTT Group's force to strengthen the country and forwarding to sustainable.

As a national company, PTT Group is engrossed in supporting the country to together go through the crisis as well as restore the country to its maximum potential and sustainable.