26 May 2017
PTT Global Chemical Announces PTTGC Open Innovation Challenge Award 2016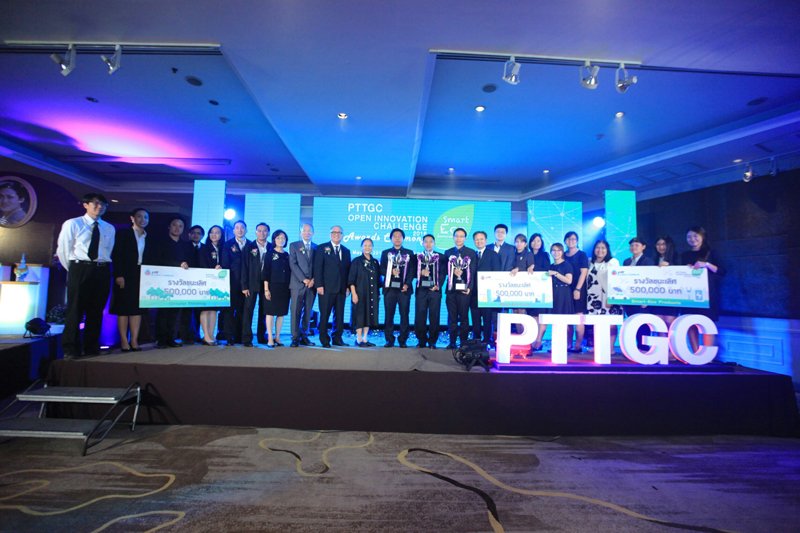 Khun Supattanapong Punmeechaow, President & Chief Executive Officer , PTT Global Chemical PCL, Khun Varit Namwong, Chief Operating Officer – Center of Excellence, Dr. Chaya Chandavasu, Senior Vice President – Science and Innovation and Khun Warawan Tippawanich, Senior Vice President – Corporate Affairs, attended the award announcement ceremony for PTTGC Open Innovation Challenge 2016: "Smart-Eco Innovation". The award features the royal trophy of HRH Princess Mahachakri Sirindhorn, with 500,000 Baht prize, as well as the opportunity to participate in research and development activities with PTTGC. The winner will also be provided with the fund to conduct research for production and commercial distribution. This marks the first occasion in the Thai petrochemical industry that encourages researchers to develop their innovation for commercial success. In this regard, the winner's prize in Smart-Eco Product category was granted to Photocat Team, whose project featured upgrading sugar to high value products and chemicals by green technology. Meanwhile, the Smart-Eco Plant award winner was Powerpuff Girls Team, who presented Carbon Dots: They are 50 Times More Expensive than Gold. Lastly, the winner of Circular Thinking award was Graphenal Team, featuring Microporous Graphenal Polymers for the Uptake and Transformation of CO2 Gas.
PTTGC Open Innovation Challenge 2016 was held under the concept of "Smart-Eco Innovation", with the objective of providing opportunities to researchers in the educational sector and research institutes as well as startup companies to develop the innovation that can add commercial values and encourage sustainable balance in the environment in order to create maximum benefits to the industrial sector and the development of Thailand. The award presentation ceremony was held on May 26, 2017 at Miracle Grand Convention Hotel, Bangkok.
The application for this project started in August 2016 and has been well received by researchers domestically and internationally. There are 50 participating projects; 38 projects from the educational sector and 12 projects from the private sector and startup companies. There are 165 participants altogether, of which 15 of them are foreigners. In this regard, 11 teams were selected to present their works in the final round on May 26, 2017 as follows.
Smart-Eco Products Category:
Colorful Team presented Reversible Thermochormic PLA Film: a Model for Bio-based Naked-eye Detectable Thermal Sensor
Photocat Team presented Upgrading Sugar to High Value Products and Chemicals by Green Technology
Vajira Health Team presented The Modular Catheter for Hemodialysis
VISTEC Team presented Photoactive supercapacitors: A new charging concept based on photovoltaic effect
Fozilex Team presented Nanospark: Battery Desulfator
Smart-Eco Plants Category:
AIT BIOTECT Team presented Reinforcing Bioplastics by Lignocellulosic Waste Derived Nanocellulose
Green Powerpuff Team presented Functionalized-nanocellulose Biocomposite Membranes for Industrial Wastewater Pretreatments
Powerpuff Girls Team presented Carbon Dots: They are 50 Times More Expensive Than Gold
Circular Thinking Category:
Graphenal Team presented Microporous Graphenal Polymers for Uptake and Transformation of CO2 Gas
Plasma CO2 Conversion PBP-YPI Team presented Development of CO2 Conversion DBD FR at Atmospheric Pressure Plasma Process
UB: Save Team presented Enjoy Saving Energy and Contribute to a Clean Environment