16 May 2017
PTT Global Chemical Analyst and Media Meeting No.2/2017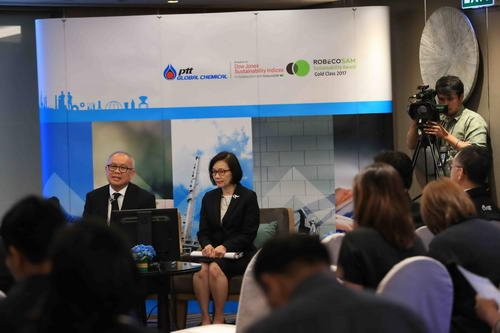 Mr. Supattanapong Punmeechaow, President and Chief Executive Officer of PTT Global Chemical Public Company Limited, Ms. Duangkamol Settanung, Executive Vice President – Finance and Accounting, and Mr. Saroj Putthammawong, Senior Vice President – Marketing, Commercial and Supply jointly announced the business overview and operating result for Q1/2017 in Analyst Meeting No. 2/2017. The company's net operating result for Q1/2017 was 13,182 million THB, increasing by 35% from Q4/2016 due to the higher product spreads as well as the efficient capacity utilization rate in all areas. As a result, the company's total sales revenue was 107,149 million THB.
For Project MAX or the organization's performance improvement project, the main objective is to sustainably improve the performance by optimizing production. Increasing the company's profit, improving workflows, and reducing costs. Therefore, in Q1/2017, the company gained 652 million THB from this project.
At the same time, the special lecture on the topic of "Petrochemical Outlook 2017" was also held by Ms. Sukanya Boonneung, Managing Director - Chemical Consulting, Asia Pacific, and Mr. Supakrit Aungwarapitikorn, Director – Chemical Consulting, Asia Pacific from IHS Global (Thailand) Limited Company.
In the afternoon, Mr. Supattanapong Punmeechaow and Ms. Duangkamol Settanung also met the press and announced the company's operating result for Q1/2017 as well as the progress of investment plans to be prepared for the investment in the EEC area to support the policy of Thailand 4.0 regarding the future industry outlook in the Media Meeting No. 1/2017 held on 16 May 2017 at Centara Grand at Central Plaza Ladprao, Bangkok.