23 July 2019
GC Appoints Five Banks as Joint Lead Arrangers for Debenture Issuance of up to 10,000 Million Baht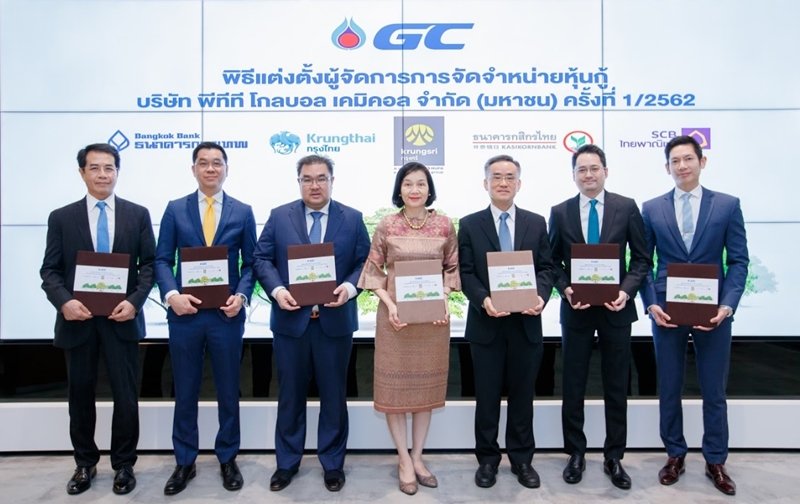 Ms. Duangkamol Settanung, Executive Vice President – Finance and Accounting, PTT Global Chemical PLC, or GC, has announced that the company is preparing a public offering to issue debentures to expand its base of investors and retail debenture holders. GC will give priority to seniors, allowing them to be the first group to invest in the debenture issuance as an alternative investment to support their retirement.
GC's debentures, No. 1/2019, have a maturity of five years and are redeemable in 2024. The issuer has the right to redeem the debentures before the redemption date. The debentures have a fixed coupon interest rate of 2.90% per annum. Interest will be paid every six months throughout the maturity period. The total value of the issuance will be up to 10,000 million baht. The subscription period is expected to run from 14 to 16 August, 2019, for seniors (born before January 1, 1960), and from August 19 to 21, 2019, for general investors. The minimum subscription amount is THB 100,000 and increases in multiples of THB 100,000. The debentures will be offered through five arrangers comprised of Bangkok Bank, Krungthai Bank, Bank of Ayudhya (Krungsri), KASIKORNBANK, and Siam Commercial Bank.
Fitch Ratings assigned a rating of AA+(tha) to GC's debentures on June 30, 2019. GC plans to use the funds raised from the debenture issuance towards debt repayments and/or business expansion and/or working capital requirements. The debentures are currently in the prospectus and filing process stage with the Securities Exchange Commission (SEC).
Interested investors can subscribe or request information from:
Bangkok Bank PCL, (excluding micro-branches), Tel. 1333
Krungthai Bank PCL, Tel. 02 111 1111
Bank of Ayudhya (Krungsri) PCL, Tel. 1572
KASIKORNBANK PCL, Tel. 888 8888 press 819
Siam Commercial Bank PCL, Tel. 02 777 6784