08 July 2020
GC Joins in Developing an Educational Model for Mongkolvittaya School and Offers Bachelor's Degree Scholarships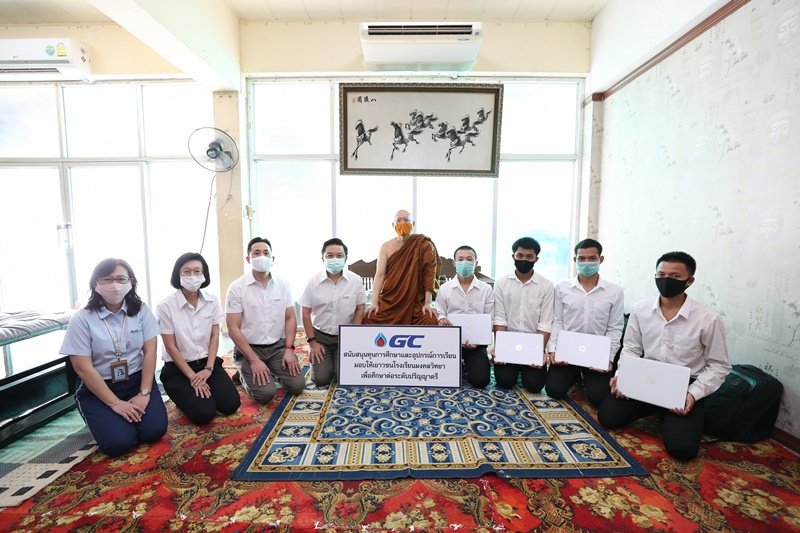 Dr. Kongkrapan Intarajang, Chief Executive Officer of GC, together with a team of executives, offered scholarships and donated laptops to 11 novice monks who qualified for undergraduate studies in public universities for the 2020 academic year, as part of the company's commitment to supporting a better future. Master Monk Wittaya Jittadharmmo, Abbot of Wat Samakki Dharmmotai (also known as Wat Khao Sarp), received the scholarships and donations at Wat Samakki Dhammotai, Rayong province, on July 8, 2020.
"Since 1996, GC has continuously granted scholarships to over 1,600 underprivileged novice monks at Mongkolvittaya School (Wat Khao Sarp). Currently, there are 373 novices eligible to study at university. GC and its subsidiaries also organized an annual offseason education activity. Together with the school, we redesigned the learning and teaching model to be more compatible for the novices, and to also conduct educational guidance activities that are both inspirational and encourage them to pursue higher education and enter the workforce. GC also donated educational supplies and set up a fund to employ foreign teachers to teach the English language while tutorial academies were invited to help improve the effectiveness of learning and teaching techniques. This has been extremely gratifying as the operation has performed with continued success, allowing novice monks to improve their education," said Dr. Kongkrapan.
Mongkolvittaya School in Rayong province is a school of Dhamma Studies which has been offering education to the underprivileged for over 35 years, teaching Matthayom 1-6 (lower to upper secondary education) and sponsoring students entering universities until they graduate with a Bachelor's degree. Additionally, the school instills their students with codes of merit and ethics together with their academic training, increasing their knowledge and capacities. Since being established, Mongkol Wittaya School's graduates have fulfilled the school's objective, "We pledge to build a qualified school for the poor" and continued to be a positive influence by helping serve the country.