31 March 2023
For the first time in Thailand! With GC's innovation for a better quality of life for you and for the world, using high-quality recycled plastic resins of food grade level guaranteed safe by FDA."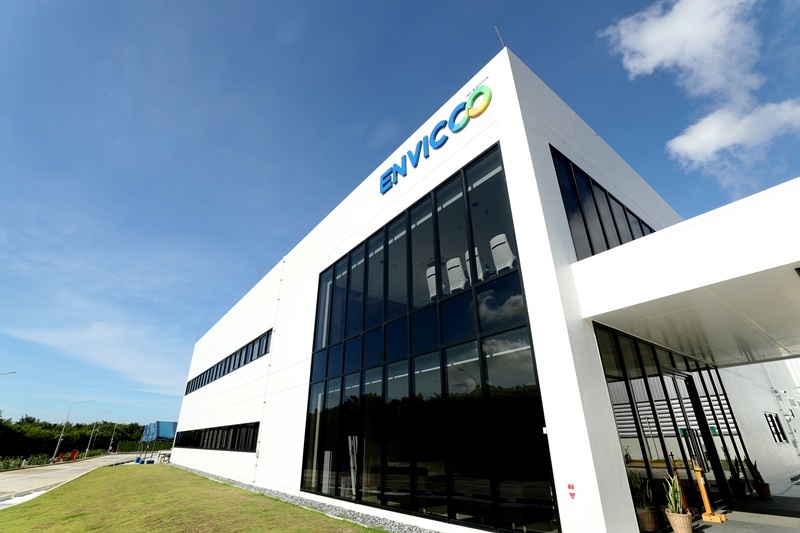 Bangkok - 30 March 2023: The world is becoming more aware of the importance of using recycled packaging to protect the environment, in line with the principles of a circular economy where post-consumer recycled PET (PCR PET) plastic resins are used in packaging in the food and beverage industry. Today, PTT Global Chemical Public Company Limited (GC) and ALPLA Group have joined hands with customers and partners to innovate better for you and better for the world by creating packaging for food and beverages using 100% Post Consumer Recycled PET (PCR PET) plastic resins under the InnoEco brand, in Thailand. This initiative aims to reduce net greenhouse gas emissions to zero, or "Net Zero." ENVICCO, a high-quality food-grade recycled plastic resin production plant, produces these recycled plastic pellets that meet international standards. The Food and Drug Administration (FDA) of the Ministry of Public Health has certified the company as the first in Thailand to use recycled plastic for food and beverage packaging due to its unique cleanliness, purity, and contamination-free properties. This is to provide a better quality of life for all the people in Thailand.
Dr. Kongkrapan Intarajang, CEO and President of GC, remarked, "Once again, GC has received good news, as the Food and Drug Administration (FDA) of Thailand has certified that the PCR PET plastic resins produced by ENVICCO factory under the InnoEco brand are suitable for use in the food and beverage industry, as they meet international standards for food-grade plastic resins. ENVICCO had previously received certification from the U.S. Food and Drug Administration. This recent certification from Thailand's FDA reinforces the quality of the PCR PET plastic resins, which are highly regarded for their exceptional purity, safety, absence of impurities, and lack of contaminated residue. As a result, consumers can be completely confident in their safe use.
Mr. Günther Lehner, Chairman of the ALPLA Group quoted that, "The FDA certification is another important milestone for our joint venture towards establishing a bottle-to-bottle cycle in Thailand and Southeast Asia. It proves our many years of expertise in the treatment and processing of packaging made from post-consumer recycled resins and expands our fields of action in reducing carbon emissions and waste through optimized resource consumption."
ENVICCO has advanced technology from Europe ensures consistently high-quality products, along with a quality control system throughout the production process. ENVICCO can produce up to 45,000 tons of high-quality PCR PET (30,000 tons) and PCR HDPE (15,000 tons) plastic resins annually. Within a year, ENVICCO can contribute to a reduction of 60,000 tons of plastic waste in the country, as well as decrease greenhouse gas emissions by up to 75,000 tons of carbon dioxide equivalent, which is equal to planting more than 8 million large trees or creating a forest that spans over 78,000 hectares.
Today, GC is ready to distribute InnoEco PCR PET to manufacturers both domestically and internationally on an ongoing basis. They are also expanding their partnerships with all sectors to participate in the collective journey towards sustainable development.
#GC #GCChemistryforBetterLiving #BetterForYouBetterForOurWorld
#ENVICCO #InnoEco #PCRPET #RecycledResins #Safe #FoodGrade
>