14 February 2023
GC and THAI sign MOU on Sustainable Development and Business Alliance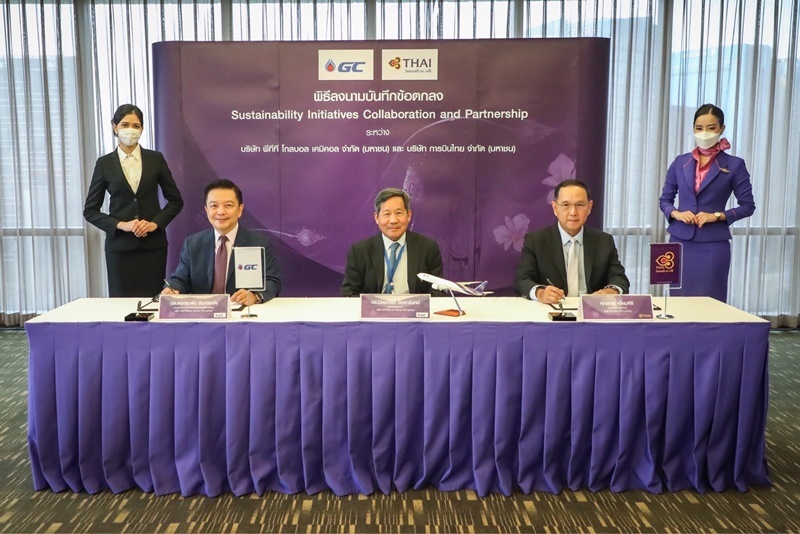 On January 6, 2023, PTT Global Chemical Public Company Limited, or GC, and Thai Airways Public Company Limited, or THAI, joined hands to further business growth in tandem with care for society and the environment, and to deliver a better world to future generations through the collaboration in sustainable development and business alliance, by binding the strengths of GC as the global leader in chemicals for better living with environmentally friendly innovations and state-of-the-art technologies utilized in product development, and also a global model business organization in sustainability, and THAI a full function airline business with a globally-recognized outstanding service, with flight routes and customer base all over the world, providing a comprehensive air transport and logistics for people, goods, domestically and international postal packages, and with other businesses related to air transportation such as air cargo service, customer ground services, equipment ground services, flight kitchen and aviation maintenance.
This collaboration is focused on seeking out future business collaborations based on sustainability, fostering growth whilst reducing greenhouse gas emissions. Dr. Kongkrapan Intarajang, Chief Executive Office and President, PTT Global Chemical Public Company Limited, or GC, and Mr. Chai Eamsiri, Chief Executive Office, Thai Airways Public Company Limited, or THAI, signed the Memorandum of Understanding on Collaboration on Sustainable Development and Business Alliance. The signing ceremony was honored with the presence of Dr. Piyasvasti Amranand, Chairman of the Board of Directors, GC, and Chairman of the Plan Administrator, THAI, presiding as the Chairman of the signing ceremony. Present also in the signing ceremony were THAI Plan Administrators Mr. Chansin Treenuchagron and Mr. Pornchai Thiraveja, together with the Directors and Executives of GC and THAI, to bear witness to the signing ceremony held at THAI Headquarters.
Dr. Piyasvasti Amranand, Chairman of the Board of Directors, GC, and Chairman of the Plan Administrator, THAI, stated that this collaboration between GC and THAI began from the same key focus of both companies to sustainably operate their businesses, awareness of the customers' current requirement on the efficient utilization of natural resources together with the preservation of the environment which results in the increased consumption of products and services that are more environmentally friendly, and also in progressing towards the organizations' goal of reducing greenhouse gas emissions to zero (Net Zero) by 2050. GC, with the Sustainable Aviation Fuel, will especially play a significant role in supporting THAI to achieve the Net Zero target. This collaboration will further enhance the potential and strengthen business operations of both GC and THAI and enable both organizations to sustainably grow. It is hoped that this agreement will further lead to more performance enhancements and collaborations in other aspects in the future.
Dr. Kongkrapan Intarajang, CEO GC, stated that this collaboration will bring the potential of both GC and THAI into play. THAI is the national carrier with strengths in human resources, and global service provision, while GC's strengths are in the chemicals business with production bases all around the round, in sustainability with a focus on the continual running of business operations in balance with ESG – the environment, society, and governance. This collaboration covers many facets, namely 1) development in Knowledge in sustainability, 2) circular economy, for which GC has many environmentally friendly products such as bioplastics, recycled products, and Upcycling products, all of which can be enhanced and applied to utilization by THAI, and also the application of the waste management platform, YOUturn, for use by THAI, 3) the study and development of the sustainable aviation fuel (SAF) a premium biograde fuel with low sulfur content and environmentally friendly from GC's production base, and 4) alliance in the service and travels dimension. This collaboration is just the beginning in the mutual enhancement of our businesses and is ready to go to the next level in other areas of collaboration.
Mr. Chai Eamsiri, CEO THAI, stated that THAI as the national carrier, are very glad to join GC in this collaboration in the study and development of sustainability knowledge in all dimensions, such as Upcycling plastic waste for conversion into products for use in in-flight services through the YOUTURN project which is a holistic plastic waste management system, the utilization of bioplastics as well as local community goods and products under GC's support to help increase community income, generate jobs, as well as commercial collaboration in the likes of a Preferred Partner in ticketing and other travel services and THAI catering, not to mention the plans and actions to achieve Net Zero through the greenhouse gas emission control digital platform development project and the study project on the development of the Sustainable Aviation Fuel (SAF), all of which shall become important factors in sustainably operating THAI's business into the future.
By adjoining the strengths of the two companies in this collaboration in business and development as alliances that are ready and dedicated, this is indeed an auspicious occasion for joining forces to uplift added value in business together with care for the environment and society and for our mutual sustainable growth.
>