17 August 2017
Helping the Community with the "InnoPlus Water Tanks" Project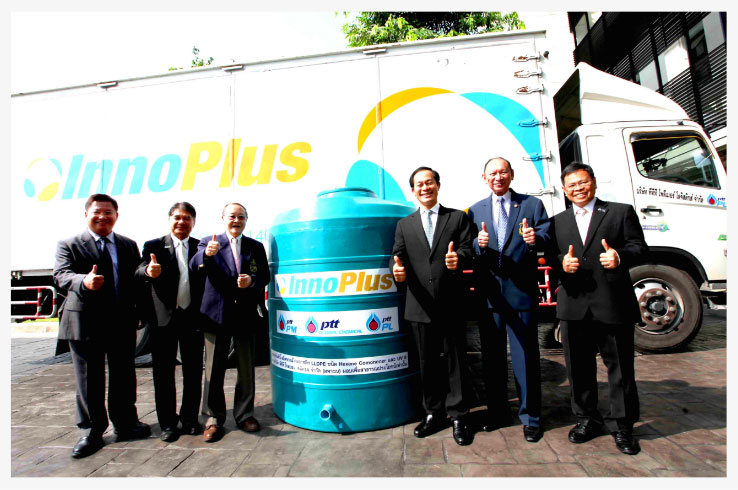 Water is an essential element for life. Since 2015, Thailand has continuously faced a water shortage with the potential to become worse due to the impacts of climate change, especially unseasonably low rain. On two occasions this year alone, Thailand's four major dams have experienced greatly reduced water levels compared to last year.
To address this issue, the public and private sectors have joined together to conduct more efficient water management planning. This coincides with the prevention of water theft and water smuggling, along with cooperation to initiate adequate drought mitigation measures for everyone.
PTT Global Chemical (PTTGC) recognizes the importance of reducing the impact of severe drought and addressing the problem of water smuggling. The company is putting its advanced green technologies to work in the "InnoPlus Water Tanks" project.
For this project, PTTGC's Linear Low-Density Polyethylene, or LLDPE, plastic, obtained by using C6-Comonomer, is being used to make "InnoPlus" water tanks with a capacity of 1,500 liters. The InnoPlus water tank is more flexible, durable, and lightweight. Providing excellent protection from UV rays and harsh weather conditions, it is unreactive at room temperature compared to other plastics.
PTTGC is working closely with public sector agencies, foundations, and charitable organizations to provide InnoPlus water tanks to communities and the company's customers in drought-affected areas across Thailand. A total of 2,408 InnoPlus water tanks have been distributed so far.
In addition, PTTGC was honored by the opportunity to present 124 water tanks to HRH Princess Maha Chakri Sirindhorn to support "Pannamjai Hai Namduem Chalermprakiet," the Thai Red Cross Society's drinking water project. This was accompanied by a financial donation to the Thai Red Cross Society for the construction of concrete foundations for the water tanks, which will assist those affected by a shortage of clean water and help relieve drought conditions nationwide.
PTTGC is committed to excellence in innovation that gives back to society. Most importantly, the company is strongly focused on raising public awareness about the value and importance of water in our daily lives. PTTGC fully supports water conservation programs, and water recycling and reuse, as important mechanisms to ensure the continued availability of this essential resource for future generations.
Business And Social/Environmental KPIs Linked To Corporate Citizenship Activities
"InnoPlus Water Tanks" Project Linkage to CSR Strategy: Trust
Objective:
To improve public health issues, relieve shortages of clean drinking water, and reduce water conflicts between communities and operations.
Business Benefits - KPIs
Ease water conflicts between communities and operations.
Use PTTGC's expertise in innovative green plastics to produce water tanks using the company's products (LLDPE plastics).
Positive acknowledgement in the media and on social media.
Environmental Benefits-KPIs
Number of water tanks distributed (124 tanks).
Communities have access to clean drinking water.