29 November 2021
"LUFFALA" Room Diffuser: Recreation Series Eco-friendly and Good for the Body and Mind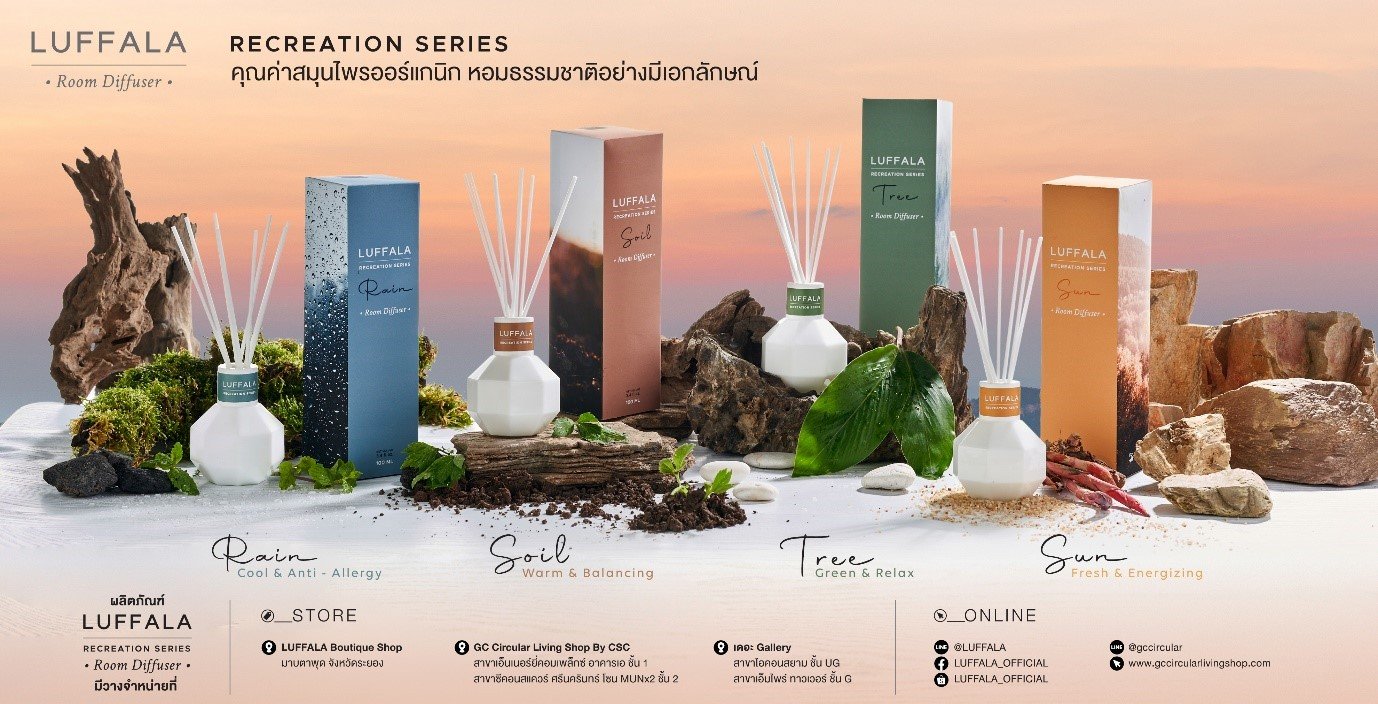 There's only one month to go before the widely anticipated New Year (BE 2564), an important time as we gather together with our families, friends and relatives, or go on vacation. It's also the perfect time to give a gift to show our love and compassion during the festive season. Wouldn't it be great if what we give contributes to building incomes for communities, boosting the local economy? This is worth considering especially as Thais continue to face the lingering Covid-19 pandemic which has had a huge economic impact.
To mark the new year, LUFFALA is ready to launch the LUFFALA Room Diffuser: Recreation Series – an air-refreshing essential oil which has brought pride to the Luffala Community Enterprise, the Nong Fab Community, in Rayong province. In cooperation with Hom Mahad Group, the Khao Phudon-Khao Huai Mahad community and GC, this pleasant and environmentally friendly product, now available for purchase, is the perfect gift for those looking to appreciate their loved ones and celebrate the holidays.
The Room Diffuser or air-refreshening essential oil was produced by extracting four aromatic compounds – Rain (Mint), Soil (Bustard cardamom), Tree (White mugwort) and Sun (Tayoy cardamom), inspired by the natural setting and flora found at Huai Mahad Mountain in Rayong province. This product improves environmental awareness, particularly about our limited natural resources as well as the use of organically grown herbs by the Hom Mahad Group and the Khao Phudon-Khao Huai Mahad community. These four extracted aromatic compounds were used to create the characteristic scents of the "LUFFALA Recreation Series."
The development of this product focused on sustainability by balancing the environment, community, society, and economy from upstream to downstream. Upstream starts by promoting the cultivation of four types of herbs: Bustard cardamom, White mugwort, and Tavoy cardamom using an organic approach from the 'Rayong Organic Living' project, and further improving cultivation through 'Smart Farming' concepts ensuring the highest quality herbs before extracting their essential oils, especially Bustard cardamom and Tavoy cardamom which are worth conserving.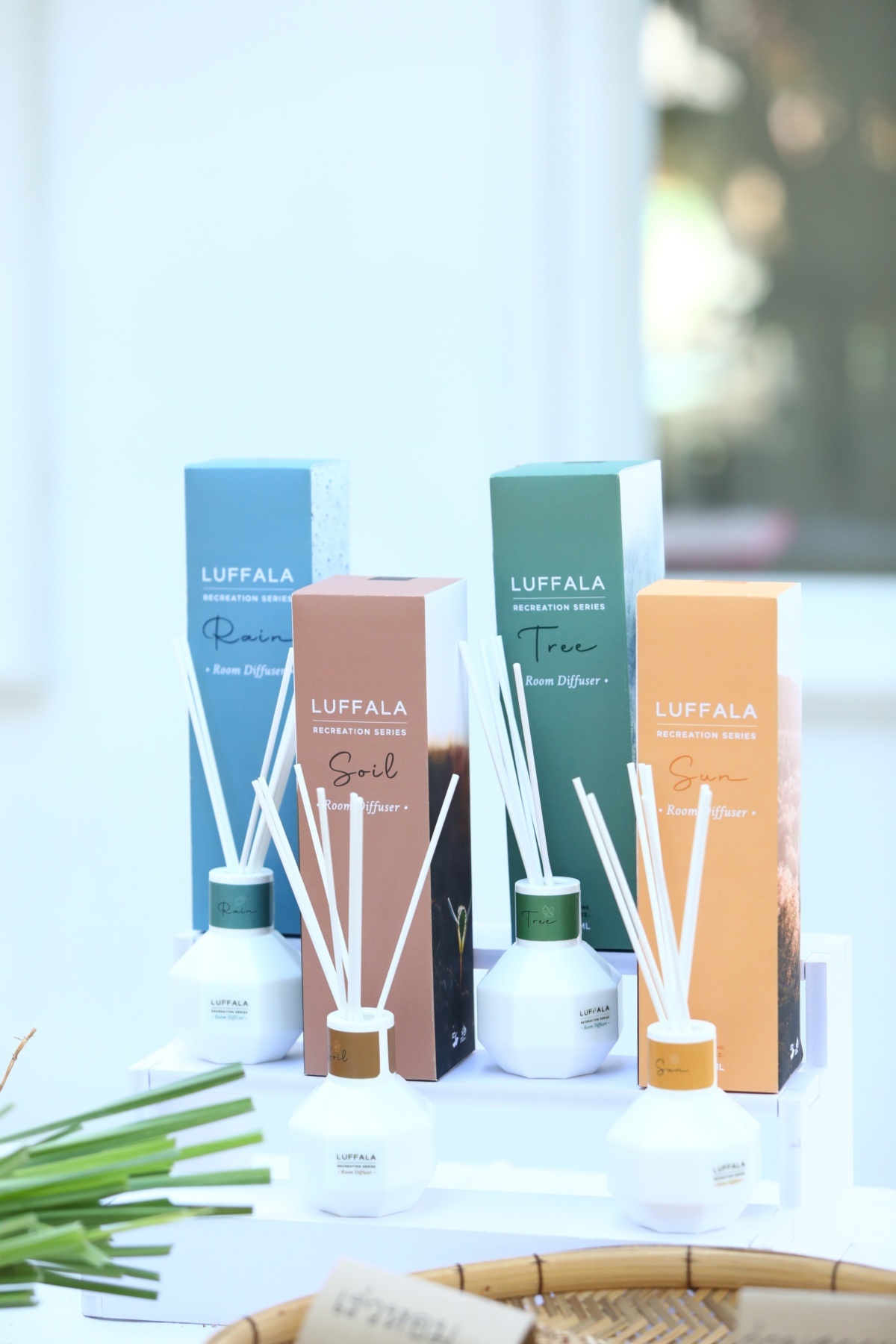 Downstream begins by using herbs to produce air-refreshing essential oils. Luffala Community Enterprise produces these oils by extracting aromatic organic compounds using GC's innovative 'Green Solvent' and flavoring method to create LUFFALA's characteristic scents, making this collection environmentally friendly and good for the body and mind as it helps ease stress, in addition to supporting the community. All four scents, packaged in 100 ml. bottles and priced at 650 each, last for more than 45 days.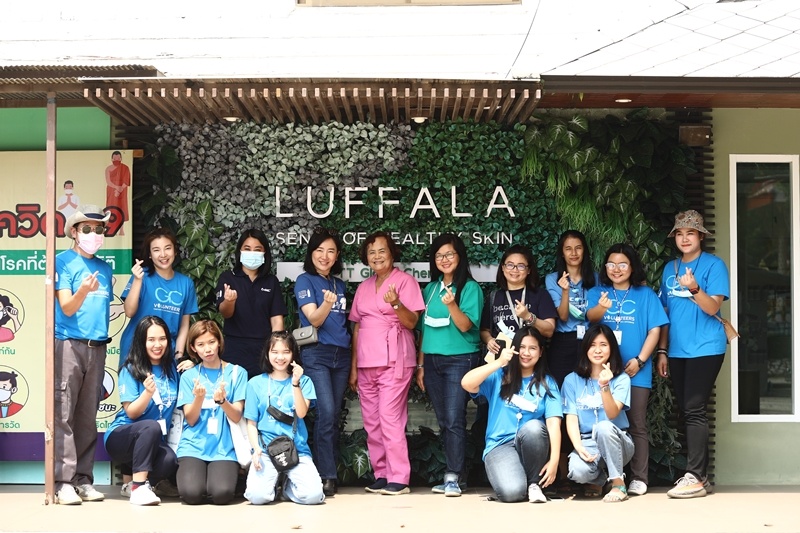 The 'LUFFALA' Community Enterprise was established in 2010 to boost the incomes of families in the Nong Fab Community's Housewives Group. This effort was in line with GC's commitment to an improved quality of life and the well-being of communities in Rayong province using local knowledge to create jobs. GC collaborated with Mae Fah Luang University's School of Cosmetic Science to develop a skincare and nourishing product made from local herb extracts, such as beach morning glory and monkey fruit, which was made into a 'luffa soap' eventually leading to the LUFFALA brand, which combines 'luffa' and 'la' (the article in front of a feminine singular noun in French). In 2011, the brand was registered as the Luffala Community Enterprise which later began to commercially produce skincare products.
LUFFALA now offers more diverse products to meet changes in the consumer market, especially due to the COVID-19 pandemic with most people being more health-conscious. A new line of hygiene products was developed under the LUFFALA HYGIENE brand offering liquid hand soap that reduces the accumulation of bacteria and effectively disinfects against the COVID-19 virus due to its premium quality glycerin components and extracts from morning glory which help restore soft, smooth skin, in addition to alcohol hand cleansing spray, alcohol hand cleansing gel, and much more.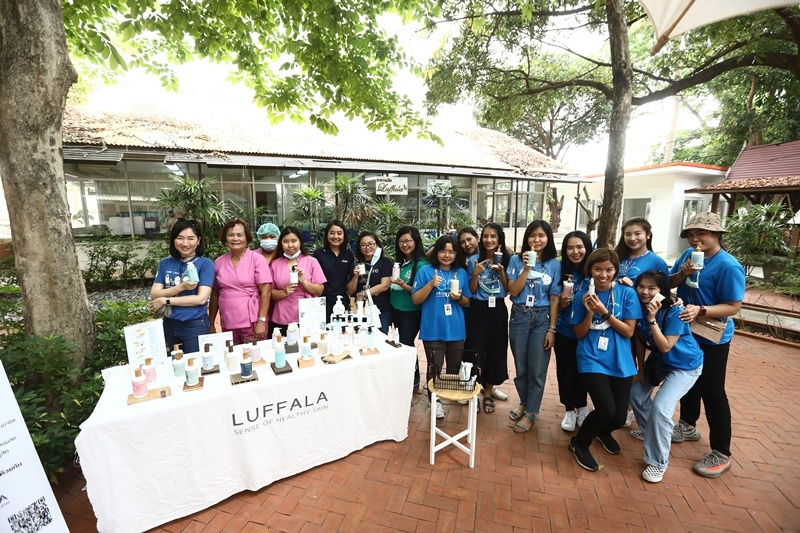 LUFFALA's success is contributing to increased recognition of Rayong as more than just the home of modern industries and one of the three provinces of the Eastern Economic Corridor (EEC) development zone, which is attracting investments from around the world in targeted industries. The province's agricultural sector is able to sustainably co-exist with an industrial zone within the province, helping to generate incomes for communities while preserving the environment and passing on traditions of indigenous cultivation of local aromatic herbs and plants to future generations. This collaboration is contributing to improved livelihoods and more resilient communities while maintaining traditional ways of life.
With the New Year around the corner, choose LUFFALA products for your friends and loved ones, providing an eco-friendly option that supports the local community and unique heritage, contributing to a stronger and more sustainable society.
To learn more about LUFFALA or order, visit:
1. LUFFALA Boutique Shop, Map Ta Phut, Rayong Province
FACEBOOK : LUFFALA_OFFICIAL
LINE: @LUFFALA
Shopee: LUFFALA_OFFICIAL
2. GC Circular Living Shop By CSC
Energy Complex Branch, Building A, 1st Floor
Seacon Square Srinakarin Branch, Zone MUNx2, 2nd Floor
LINE: @gccircular
www.gccircularlivingshop.com
3. The Gallery
Icon Siam branch, UG floor
Empire Tower branch, G floor
About the Luffala Community Enterprise, visit: Click
#ชุมชนเข้มแข็ง
#Luffala
#Chemistryforbetterliving